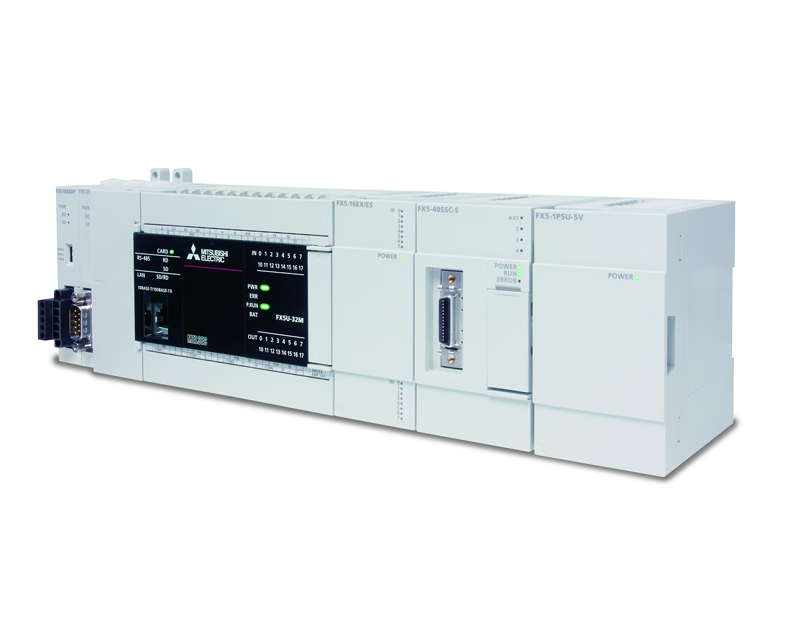 The Simple Motion module is the perfect choice as a controller for compact machines.
The Simple Motion module achieves wide-range, advanced Motion controls, such as synchronous/cam controls, boosting machine performance further. Provided with various functions as standard, such as synchronous encoder input and mark detection function, the Simple Motion module is applied to various machines without any additional optional units.

The parameters and servo data are managed centrally via SSCNET III/H, which simplifies the time-consuming startup and adjustment work as much as possible. Easy settings without complex programming using MELSOFT GX Works3 allows a quick startup and easy debugging.

Positioning
The
compact PLC FX5U
, from
Mitsubishi Electric
, comes with built-in capacity for 200kHz high speed inputs and outputs. This provides the capability to control up to 4 axes of positioning with stepper or servo motors. The FX5U is a cost effective solution for interrupt operation, multistage speed operation, simple linear interpolation, and simultaneous start of 2 axes.
Simple Motion module
The Simple Motion module
(FX5-40SSC-S)
provides motion functionality for up to 4 axes of motion over SSCNET III/H. This compact controller has the capability for applications that require advanced synchronous control, cam control, and speed‑torque control.
Features
Processing speed;
High speed inputs and outputs;
Analog inputs and outputs;
Ethernet;
Security functions.
Advantages
Motion functions;
Control of 4 axes.
Industries
Packaging;
Stone cut;
Conforming metal.
F.Fonseca is the representative of the Mitsubishi Electric in Portugal.