Login
MyFFonseca
If you do not have an account MyFFonseca, please register and get access to exclusive content to registered users!
Create registry
Login
MyFFonseca
If you do not have an account MyFFonseca, please register and get access to exclusive content to registered users!
Create registry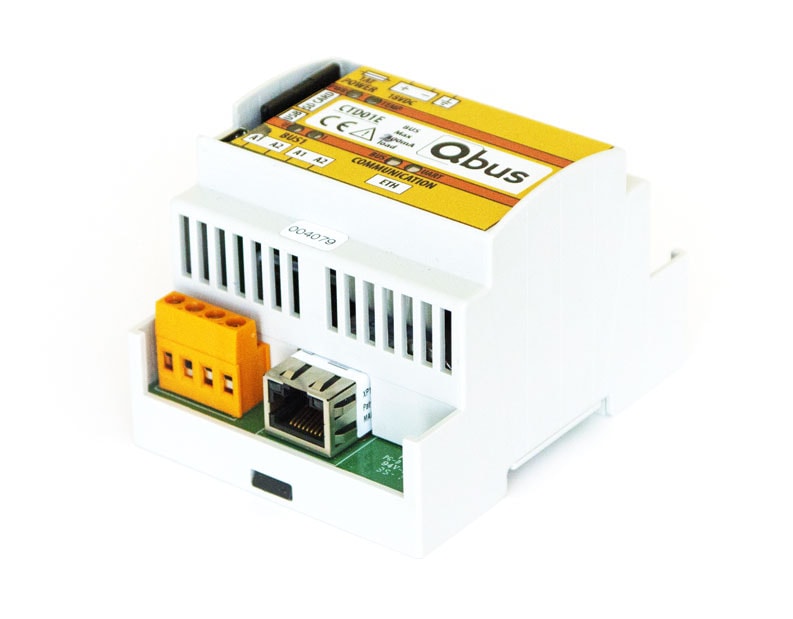 Building Technologies
Controller CTD01E - Qbus
The CTD Controller (Patent Pending) is the heart of your Qbus system. The Controller controls and supplies power to all Qbus modules connected via the usual two-wire bus: flexible and easy to install.

Each controller has an on-board SD memory card on which all actions that happen on the bus are stored. That data can be used by the Qbus EQOmmand software to visualize, predict and optimize energy consumption.

Each CTD has a standard USB port to adapt your system to your liking in an easy way. Optionally, each controller can have an Ethernet port via which you can securely communicate with your controller over the internet.

The controller supplies the necessary power and data via a 2-wire bus to all the connected modules. It should preferably be placed in a dry, slightly heated room and controller and interfering sources such as contactores and transformers. The distributuin cabinet should be adequately ventilated.
The power is delivered via a stabilized 18Vdc/2A power supply (included). In case of a voltage cut-off a built-in back up memory will save all data for a minimum of 10 years.
As a safety measure, the controller will automatically shut down in case the switching power supply regulator reaches 100 degrees Celsius. After cooling down the controller will start up again automatically.
It is recommended to use the Qbus cable or any other cable with minimum 2x1mm2 conductors as a bus lead. The green protected EIB wire is also allowed when the conductors are guided per 2 in order to obtain a section of minimum 2x1mm2.
A bipolar automatic fuse of a maximum of 6A must be placed on the mains power.
Conductor cross section maximum 1,5mm2.
Led indication is purely indicative. All ranges mentioned below have a tolerance of +/- 5%.
Power supply voltage indication LED:
GREEN if input voltage is between 16V and 20V;
ORANGE if input voltage is >20V or RED if input voltage is <16V;
Heat sink temperature indication
:
GREEN if temperature is <60ºC;
ORANGE if temperature is between 60ºC and 70ºC;
RED if temperature is >70ºC.
Bus voltage LED indication
:
GREEN if bus voltage is between 12V and 14'4V;
ORANGE if bus voltage is >14V;
RED if bus voltage is <12V.
Bus current LED indication
:
GREEN if bus current is <200mA;
ORANGE if bus current is between 200mA and 250mA;
RED if bus current is >250mA.
Bus communication LED:
GREEN when there is a transmission to the bus;
RED if it is receiving from the bus.
UART communication LED:
GREEN when the microprocessor is reading from the SD memory;
RED when it is writing in the SD memory.
Features
Power supply: 230Vac +-10%, 50 Hz - maximum protection 6A/2P;
Power supply controller: stabilized 18Vdc/2A;
Characteristic consumption : 2VA, no bus load;
SD Card 8 GB;
Working temperature range: 10°C to 50°C;
Storage temperature range: -10°C to 60°C;
Maximum humidity: 93%, no moisture condensation;
Internal fuse: 1AF;
Max installation altitude : 2.000m.
Advantages
Free software;
SD memory card to store programming;
Application in DIN rail;
Connectors for connection of the home automation system Qbus (complete system).
Industries
Electrical installers;
Construction companies;
Electrical design offices.
F.Fonseca is the representative of Qbus in Portugal.