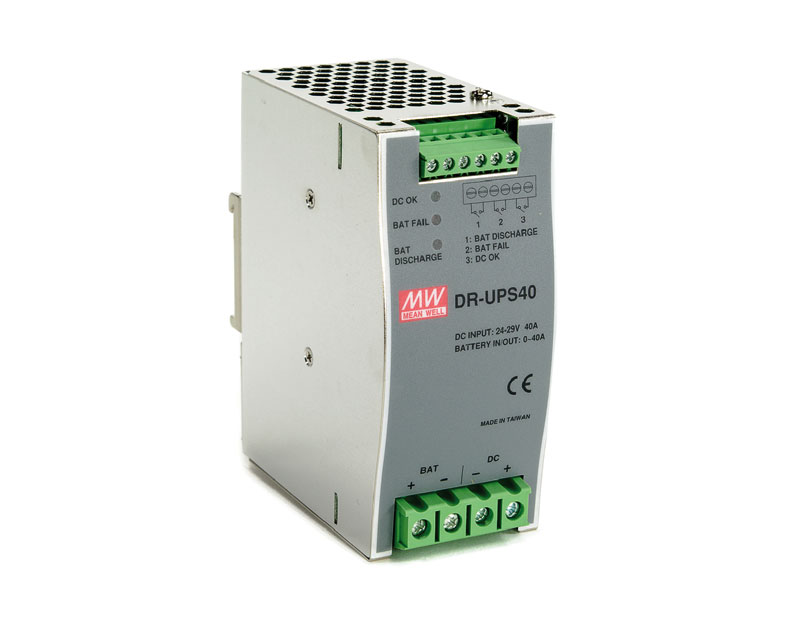 The Mean Well UPS module and battery controller DR-UPS40 is the ideal solution for the installation of a redundant 24VDC supply system until a maximum of 40A.

In today's market, there is a growing demand for high-performance DIN rail power supplies. Mean Well power supplies stand out, reaching a differentiating level and maintaining high levels of efficiency. But performance by itself may not be enough in an industrial facility. It is sometimes essential to have a redundant supply system. The Mean Well DR-UPS40 solution has the necessary features to add extra power to the already installed power supply in situations where AC power is interrupted.

The DR-UPS40 DR-UPS40 battery controller is characterized by high-level performance including battery monitoring, alarm management, integrated protection, visual and digital signaling. The maximum charge current of the batteries is limited to 2A, for a maximum capacity of 12Ah, thus protecting them from possible damage caused by too fast charging.
The simple mounting on DIN rail makes this solution perfect for the electrical panel of your plant or machine. To meet the most demanding industrial requirements, the DR-UPS40 is UL, CUL, TUV and CE certified.
Features
Installed in DIN Rail TS35/7.5 or 15;
24VDC and up to 40A;
Cooling by free air convection.
Advantages
Built-in battery test function;
Battery polarity protection;
Relay contact signal output and LED indicator for DC BUS OK, battery fail and discharge;
3 years warranty.
Industries
F.Fonseca is distributor of Mean Well in Portugal.