Login
MyFFonseca
If you do not have an account MyFFonseca, please register and get access to exclusive content to registered users!
Create registry
Login
MyFFonseca
If you do not have an account MyFFonseca, please register and get access to exclusive content to registered users!
Create registry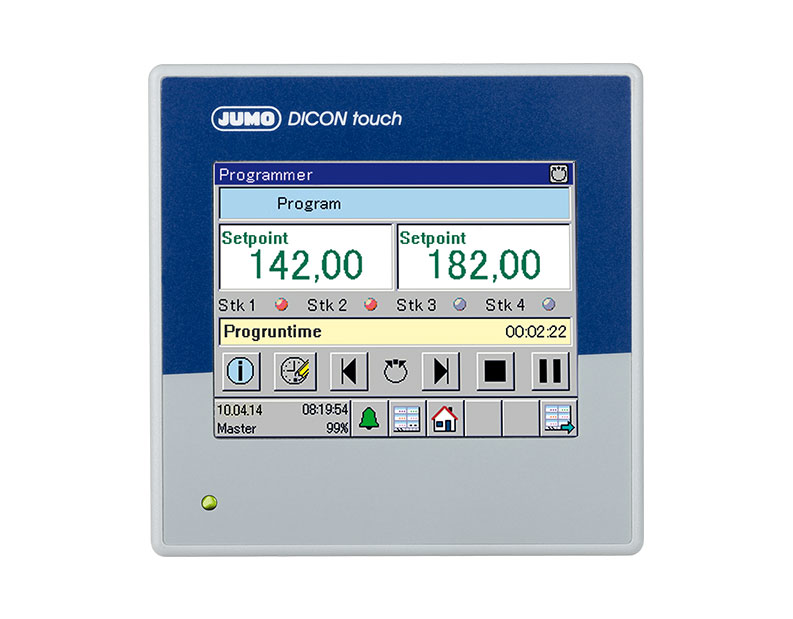 Process, Instrumentation & Environment
Process Controler / Programer DICON touch - Jumo
Jumo's DICON touch is a two-channel universal processor and program controller that displays information on a vibrant screen. The device is easy to operate thanks to the touch screen display.

Both DICON touch control channels use the Jumo control algorithm with two possible optimization options. These allow simple and highly accurate initialization. Allows multiple zone control, cascade control or other complex control tasks.

Four analog universal inputs and up to eight external inputs can record a variety of measured physical values ​​with high accuracy. Actuators can be controlled directly on the device with an analog or digital configuration. These can be expanded through external digital outputs. Interfaces such as Modbus (master/ slave), PROFIBUS, PROFINET-RT or Ethernet with web server can be used for communication with higher order systems.


To ensure safe operation of the process, the device has a password-protected user administration with individual access assignments for different levels or control commands. Display masks for controllers, program generators, recording and overhead displays are pre-fabricated and available. An individual process display can be created using the configuration software. By using the extra recording code, important analog and digital process values ​​can be saved to be tampered so they can be viewed graphically, and so they can be exported via interface or USB stick in a tamper-proof way to the PC.
The configuration software ensures that the process controller can be easily programmed, that mathematics or logical coherencies can be described and that client-specific linearization can be created. In addition, tools are included to simulate external signals or control paths. These tools can also write during the boot period.
A comprehensive concept of alarm and value limit as well as flexible digital signal management completes the all-in-one device.
Features
3.5" vibrant color display with 320x240 pixels and 256 colors;
Easy-to-use program input and program control;
Standard interfaces: USB host, USB device, RS485 (COM1);
Available as COM2 interface: Modbus master/ slave, RS422/ 485, PROFIBUS-DP, Ethernet and PROFINET-RT;
Paperless integrated logger with tamper-proof data storage (as an option);
Individual process display with configurable edit boxes;
Mathematical and logical functions;
Flexible through modular hardware;
Password protected user management;
Five-digit analog value display;
Individual operator level;
Control loop monitoring and output value;
Integrated timer and service time switch and operating hours;
Web server for online viewing through a web browser;
Email alarm transmission;
Type of protection at the front IP66;
Calibration certificate AMS2750 / CQI-9;
cULus, GL, DIN EN14597 approval.
Industries
Industrial furnace construction;
Test chambers and heating cabinets;
Climatic and simulation chambers;
Incubators;
Autoclaves;
Dryers;
Sterilizers;
Heat transfer oil plants;
Plastics industry;
Machine and plant engineering;
Test benches;
Pharmaceutical and chemical industry;
Use on ships.
F.Fonseca is the representative of Jumo in Portugal.