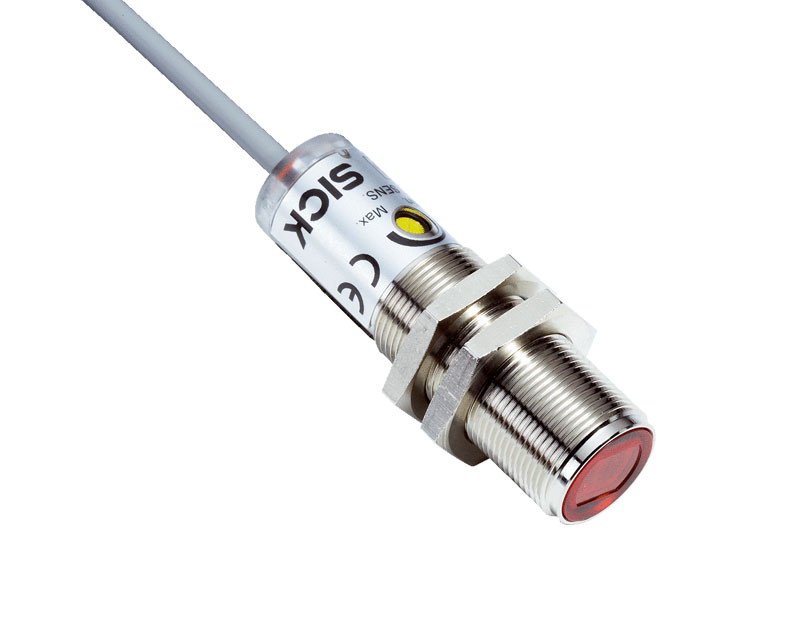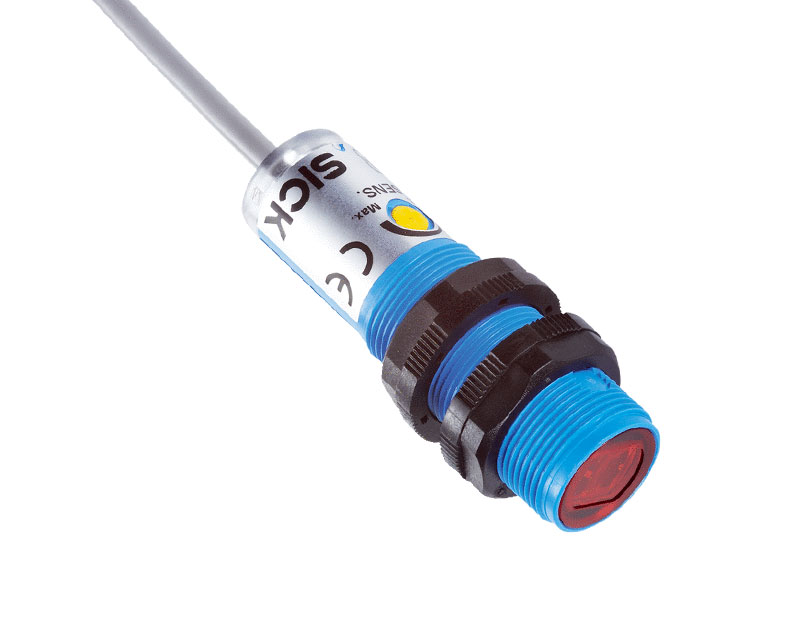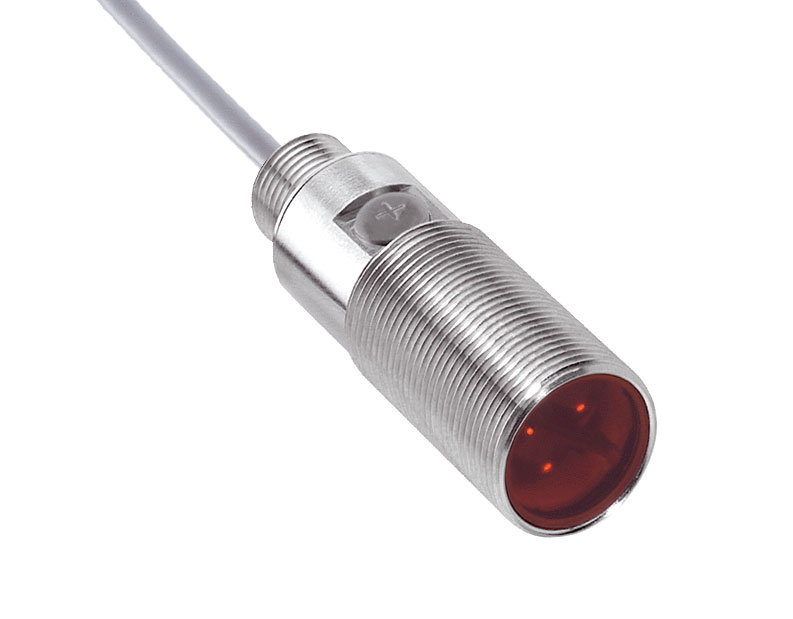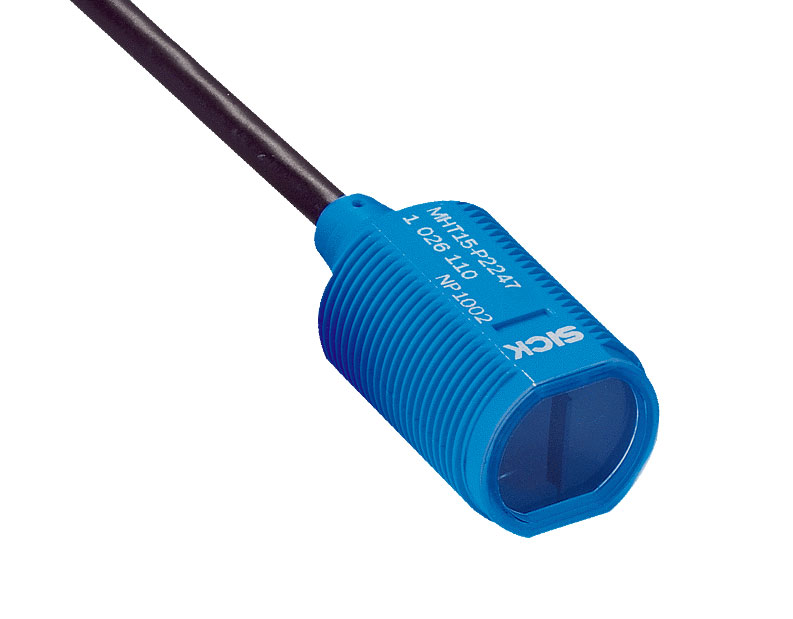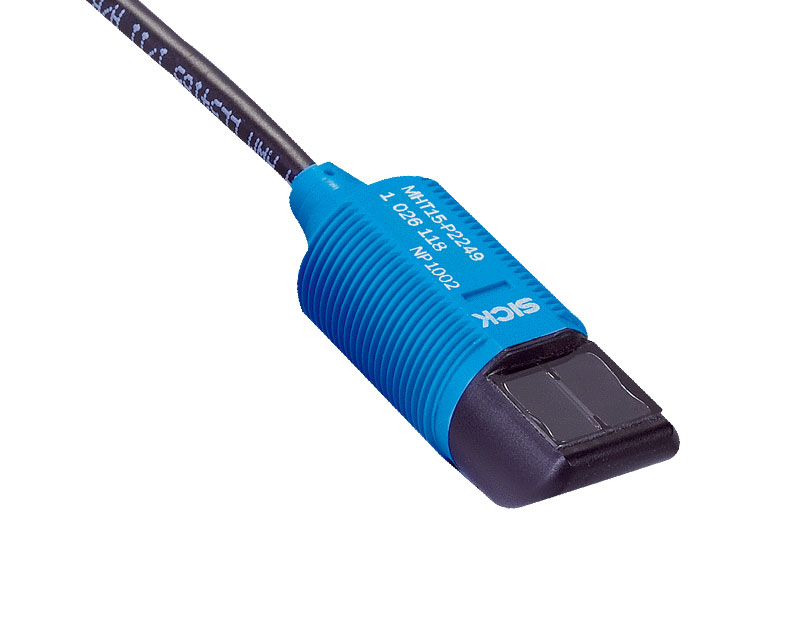 Photoelectric switches in cylindrical from Sick housing allow universal and extremely simple installation without restrictions of sensor performance.

The advantages: compatible 1-hole installation M12 or M18 for different product series and a variety of applications.

Cylindrical photoelectric switches from Sick
cover the complete application range of modern photoelectric switches:
Universal standard photoelectric switches V18;
Shortline for space-saving, innovative installation solutions MH15, load-optimized series for food & beverage V18V & MH15V;
Laser photoelectric switches V18L for applications without laser restrictions thanks to class 1 V18L and photoelectric switches for fiber-optic cables VLL18;
All of that with a compatible mounting technique M18.
The
photoelectric switch series V12-2 with cylindrical
from Sick
housing technology reduces housing diameters even more with M12 mounting.
Cylindrical photoelectric switches are the ideal, installation-compatible additions to other SICK sensor series such as inductive, capacitive and magnetic sensors.
Features
V12-2 – Photoelectric switches in M12 housing
Complete product family: photoelectric proximity switches, photoelectric reflex switches and through-beam photoelectric switches;
Connection: 2m cable and 4 pin M12 connector;
General purpose for all standard applications;
Scanning ranges:

VS/VE12-2: 4m;
VL12-2: with polarizing filter, 2.3m/PL80;
VT12-2T: 100 and 300mm (90% white), adjustable by teach-in.
V18 – Photoelectric switches in M18 housing
Widest range of sensor types;
Full product range including through beam, retro reflexive, fixed back ground suppression and energetic proximity sensors;
Horizontal and side view models;
Plastic or metal housing;
Models for DC and AC power supply;
Versions for Food & Beverage industries, Laser and fibre-optic;
Operating scanning ranges:

VS/VE18: up to 16m;
VL18: up to 3m;
VT18 energetic: up to 800mm 90% remission (white);
VT18 focused: 50mm and 100mm 90% remission (white);
VTB18 with background suppression up to 130mm 90% remission (white).
MH15 – Shortline: photoelectric switches in M18 housing
Short housing - flush mounting;
Complete MH15 product family: photoelectric proximity switches (energetic), reflex and through beam switches;
Very short housing length = short build-in depth, simple handling;
Options for axial or radial 90°: ideal for clever integration of MH15 into the mechanical system;
Novel mounting accessories (included) for fast and inexpensive mounting;
Design and accessories without edges and corners;
Unlimited access to M18 hole mounting;
MH15V: the version for Food & Beverage industries.
V180-2 – Photoelectric sensor series M18 in plastic and metal housing
Round, economic, robust;
Top performance for a wide range of applications, quick selection of the proper type: the portfolio is adapted to essential market requirements. Different versions are available:

Photoelectric proximity switches in three different scanning distances: (100mm / 400mm / 800mm);
Photoelectric reflex switches (6m/PL80A);
Photoelectric through beam switches (20m).
The complete family is available in plastic and metal housing.
These options open up a wide range of solutions for reliable detection and solid technical processes. Convenient and fast Set-Up due to visible Red-Light sender at all types, more over 2x 360° LED indication & sensitivity control, make the V180-2 the synonym for economical solutions by standardized housing technology.
Advantages
Reduced volume;
Wide range of products;
Angular version.
Industries
All, particularly in Logistics, Ceramics and Food & Beverage.
Ref. A01106149
F.Fonseca is the representative of the Sick in Portugal.