Login
MyFFonseca
If you do not have an account MyFFonseca, please register and get access to exclusive content to registered users!
Create registry
Login
MyFFonseca
If you do not have an account MyFFonseca, please register and get access to exclusive content to registered users!
Create registry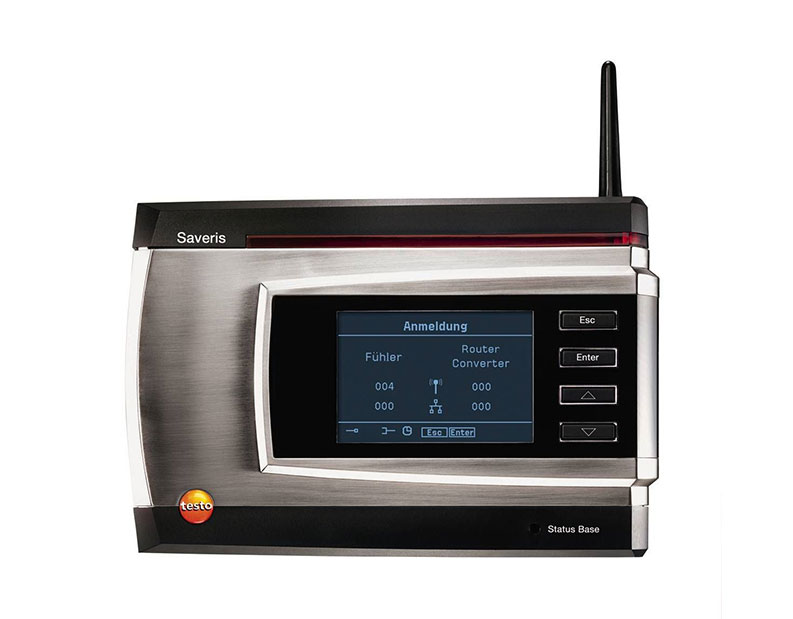 Process, Instrumentation & Environment
Dataloggers - Testo Saveris
The base is the heart of Datalogger Testo Saveris and can save 40.000 readings per channel measurement independent of the PC, which corresponds to a year capacity memory with a measurement interval of 15 minutes. A stack help ensures that any alarm is transmitted and not lose any data in case of power failure. The system data and alarms are displayed Saveris the display base. Even if the PC is off, the base emits a alarm via LED exceeded some threshold value, or optionally via SMS or via the relay output which can connect a transmitter alarm.

In total, a base can incorporate 150 radio and Ethernet probes or 254 measurement channels. The Datalogger Testo Saveris base is connected to a PC through a cable USB or Ethernet. The base Saveris provides a high versatility with greater security.

NOTE:
The communication between the base and the probes can be made by radio frequency 868 MHz / 2.4 GHz or Ethernet, existing probes for measuring temperature, humidity or analog current or voltage.
The measurement data are transmitted from the base to the PC where the software the
Testo Saveris
is installed in minutes using a helper installation. The system configuration and the probe is also made in software.
All measurements are stored centrally in the database software and can be viewed at any time in the form of table or graph. All alarms that occur are listed in a history in the form table. The automatic creation of PDF reports at intervals simplifies the documentation set. Using the calendar function and the grouping of the probes, the operation of the software is simple and intuitive.
In alarm option you can choose to receive a message via e-mail or an alarm directly on the screen.
Saveris software is available in two different versions.
Version Basic SBE (Small Business Edition) allows the basic functions of software.
In software version PROF (Professional) enables interesting functions. Additional ex.:
Integration into the network via Ethernet. The constant monitoring of measurement data is thus possible. The measurement data can be monitored for several PC's integrated network;
Photos of the rooms of machines or can be saved as an image. The respective measurement values ​​are presented directly in the position where the probe is in the room or the machine. The link between the location and measured value is thus very easy to visualize (see Figure);
A comprehensive alarm management offers the option of alerting more than two people at the same time or successively. Depending on the day of weeks and hours, you can choose freely whether an alarm is sent via email or SMS.
Features
Memory: 40,000 values per channel (total max. 10,160,000 values);
Dimensions: 225 x 150 x 49 mm;
Weight: approx. 1510 g;
Protection class: IP42;
Material/housing: diecast zinc/plastic;
Radio frequency: 868 MHz / 2.4 GHz;
Power supply (absolutely necessary): 6.3 V DC mains unit; alternatively via 24 V AC/DC plug-in/screw terminals, power consumption < 4 W;
Rech. batt.: Li-ion battery (for data back-up and for emergency SMS if power supply fails);
Oper. temp..: -10 ... +50 °C;
Storage temp..: -40 ... +85 °C;
Display: graphical display, 4 control keys;
Interfaces: USB, radio, Ethernet;
Connectable radio probe: max. 15 probes can be directly connected via radio interface, max. 150 total via radio / router / converter / Ethernet, max. 254 channels;
Alarm relay: max. 1 A, max. 30 W, max. 60/25 V DC/AC, NC or NO contact;
GSM module: 850 / 900 / 1800 / 1900 MHz not valid for Japan and South Korea;
Set up: table base and wall bracket included.
Advantages
Large internal store:
Alarm via LED, relay, SMS (GSM version), even without PC running;
Display of system data and alarms;
Additional emergency battery for data security.
Industries
Food and drinks industry;
Refrigeration systems industry/HVAC;
Engineers and installers;
Ceramics and glass;
Pharmaceutical Industry;
Water management - caption, treatment e distribution;
Gases - continuous monitoring.
F.Fonseca is distributor of Testo in Portugal.