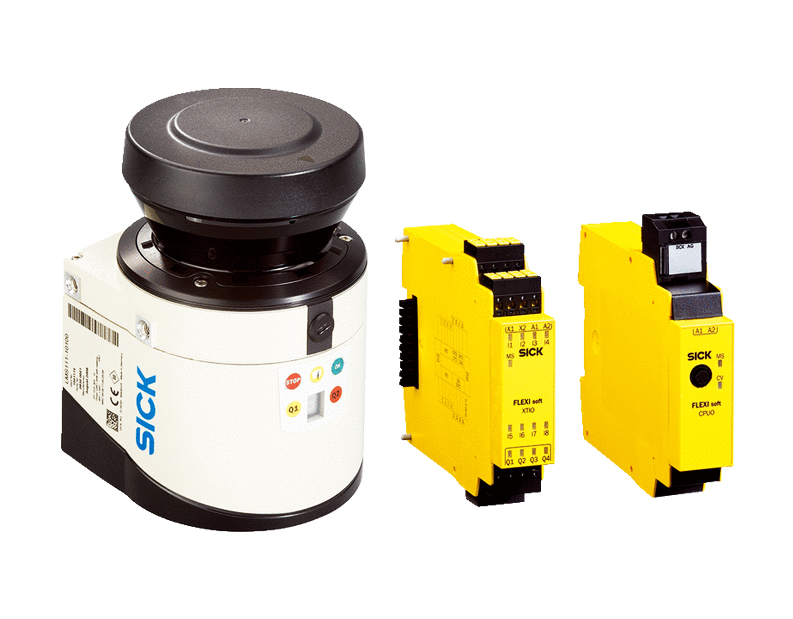 The versatile AOS Prime system has been developed with the aim of preventing costly collisions. It is used in a whole host of industries, including steel works, ports and railway industry sectors of various kinds. Two application packages have been developed in order to keep damage to a minimum and, as a result, reliably enhance the availability of the container loading equipment to a considerable degree: AOS104 RTG and AOS502 STS.

The
AOS Prime
(Advanced Object Detection System) object detection system is a self-testing system with excellent diagnostic capabilities. The AOS is used in monitoring applications where a standalone laser scanner is not sufficient and high operational reliability of the system is required. Thanks to the included preconfigured logic blocks, the system can be efficiently and reliably put into operation. In addition to optical sensor testing, the response time and output signals of the sensors are continuously tested during operation. The AOS fills the gap in outdoor areas where laser scanners alone are not enough and high system reliability must be ensured.
Features
Enhanced system diagnostics;
Automatic self-test cycles for the entire system;
Safe monitoring of the correct switching behaviour and connection cable of the laser scanner;
Easy implementation of additional logic functions;
Easily expandable due to modular concept.
Advantages
The independent self-testing system ensures secure operation due to excellent diagnostic capabilities;
Reliable, industry-proven laser scanner with enhanced diagnostics for outdoor applications;
Variable monitoring fields make the AOS ideal for a wide range of applications;
Modular concept makes expanding the system simple;
Optional gateways ensure connection to bus systems or remote diagnostics;
Built-in control functions for peripheral devices, even for safety-related signals like emergency stop;
Supports and simplifies individual operating licenses for machinery.
Industries
Ref. A01108166
F.Fonseca is the representative of Sick in Portugal.