Login
MyFFonseca
If you do not have an account MyFFonseca, please register and get access to exclusive content to registered users!
Create registry
Login
MyFFonseca
If you do not have an account MyFFonseca, please register and get access to exclusive content to registered users!
Create registry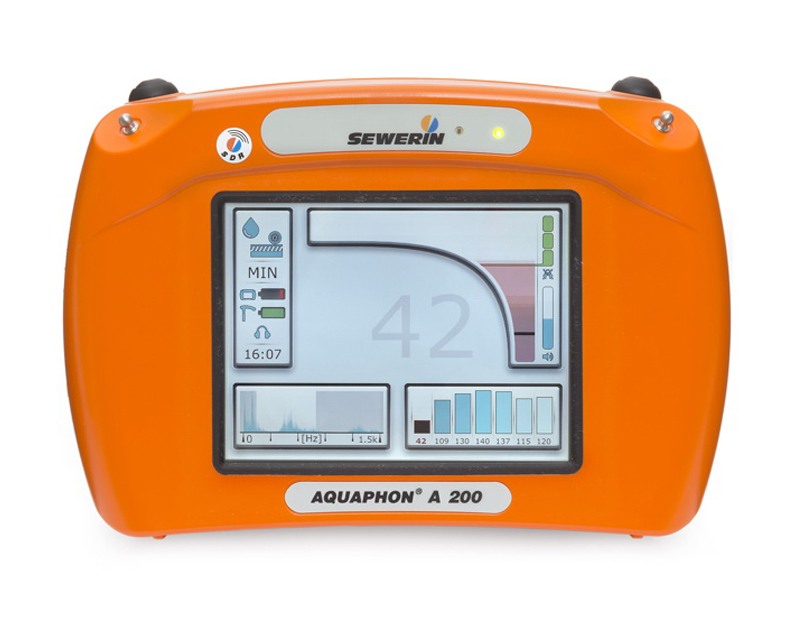 Process, Instrumentation & Environment
Electro-acoustic water leak detection Aquaphon® A200 GNSS – Sewerin
The AQUAPHON® family is Sewerin's professional, flexible and intelligent system for detecting leaks in water pipes.

Designed to be modular, this family offers the best conditions for a quick, simple and safe water leak detection, its elements having been designed for universal use and adapting to all electroacoustic location requirements.

Its central element is the innovative AQUAPHON® A200 GNSS receiver, with its completely wireless handling, simple user guide with application assistant, time-saving audio function and very recently with integrated GPS.
How it works? Where there are leaks, the A200 GNSS system makes the oscillations emitted by pipes, valves and soils audible, being effectively supported by recording, measurement values and graphical visualization.
Features
5.7 ″ extra-large VGA touch screen;
Integrated audio player;
Protection class IP67;
Special high sensitivity microphones;
High quality and impact resistant case;
Integrated positioning module GNSS (Global Navigation Satellite System).
Advantages
It is the only system of its kind in the world that works completely without wires: maximum freedom of movement, without disturbing noises;
All system components are interconnected through Sewerin Digital Radio (SDR) communication;
Allows even inexperienced users an intuitive and reliable operation;
Intelligent filtering based on frequency analysis (FFT) reduces disturbing secondary noises, while also allowing manual filter adjustments to highlight leakage noises;
With the integrated GPS, the leak exact geographical position can be associated with the noise, making this information available for analysis and later documentation;
Definition of upper and lower limits on the filter in a simple and easy way, by clicking on the leak noise graphical representation;
The measurements stored in an A 200, C 200 or AC 200 receiver can be transferred quickly and easily to a computer via USB, facilitating offline analysis;
The case is able to simultaneously charge the batteries of the receivers, wireless headphones and support bars in the closed position.
Industries
Construction and maintenance of public and private water networks.
F.Fonseca is distributor of Sewerin in Portugal.