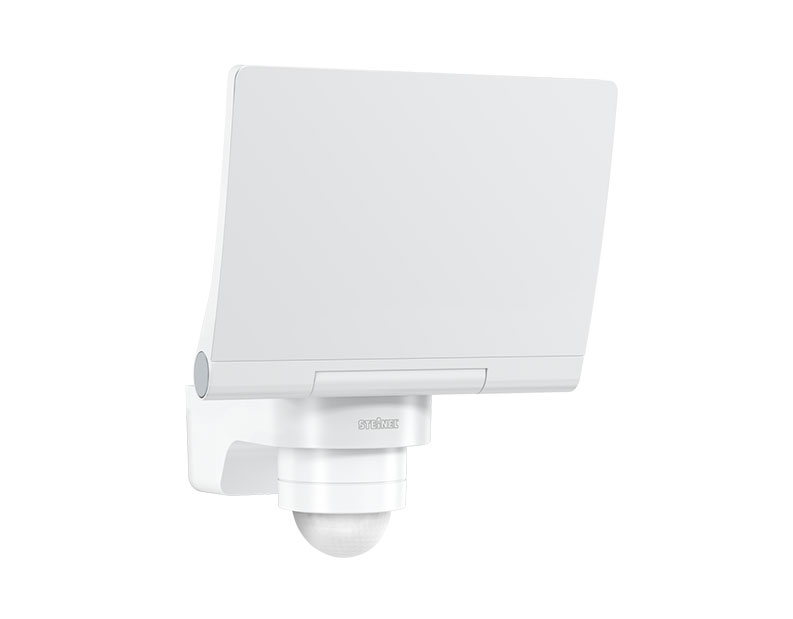 lluminates every corner of the building
Day-bright illumination throughout: the XLED PRO 240 sensor-switched outdoor floodlight. With fully swivelling LED flat panel and opal diffuser. 1830 lumens, 4000 K, 20 W. With a 240° infrared sensor for reliable motion detection over a reach of up to 12 m. Available in black or white. Includes corner wall mount.

The XLED PRO 240 sensor-switched outdoor floodlight is a lighting and detection wizard. The fully swivelling, extra-slim LED flat panel delivers 1830 lumens of light, and is ideal for illuminating large areas around the building with on-demand lighting. In conjunction with 4000 K colour temperature, the opal diffuser produces an inviting lighting mood. The LED floodlight is fitted with a 240° infrared sensor that reliably detects the smallest of movements, has a reach of up to 12 m and makes an effective deterrent to unwanted visitors. With the adapter provided, fitting the light to a wall corner is not a problem. The LED floodlight has a power consumption of just 20 W. Available in black or white.
Features
XLED PRO 240 white
003630
---
Dimensions (H × W × D)
221 × 180 × 161 mm
---
Supply voltage
230-240 ~V / 50/60 Hz
---
Sensor system
passive infrared
---
Reach
max. 12 m
---
Output
20 W
---
Luminous flux
1830 lm
---
Additional switching capacity
max. 1000 W
---
Colour temperature
4000 K (neutral white) / SDCM 3
---
LED life expectancy
60,000 h (L70B10)
---
Colour rendering index
Ra ≥ 80
---
Angle of coverage
240°
---
Time setting
10 s - 15 min
---
Twilight setting
2 - 1000 lux
---
IP / protection class
IP44 / II
---
Advantages
Very high energy saving;
Convenience from automated light management;
Combination of sensor system and LED light;
Well-spread radiation of light;
Life of LED's: 50,000 h;
Fast 2-piece installation.
Applications
Office buildings;
Commercial spaces;
Hospitals;
Schools;
Airports;
Hotels;
Industrial buildings.
F.Fonseca is the representative of Steinel in Portugal.