Login
MyFFonseca
If you do not have an account MyFFonseca, please register and get access to exclusive content to registered users!
Create registry
Login
MyFFonseca
If you do not have an account MyFFonseca, please register and get access to exclusive content to registered users!
Create registry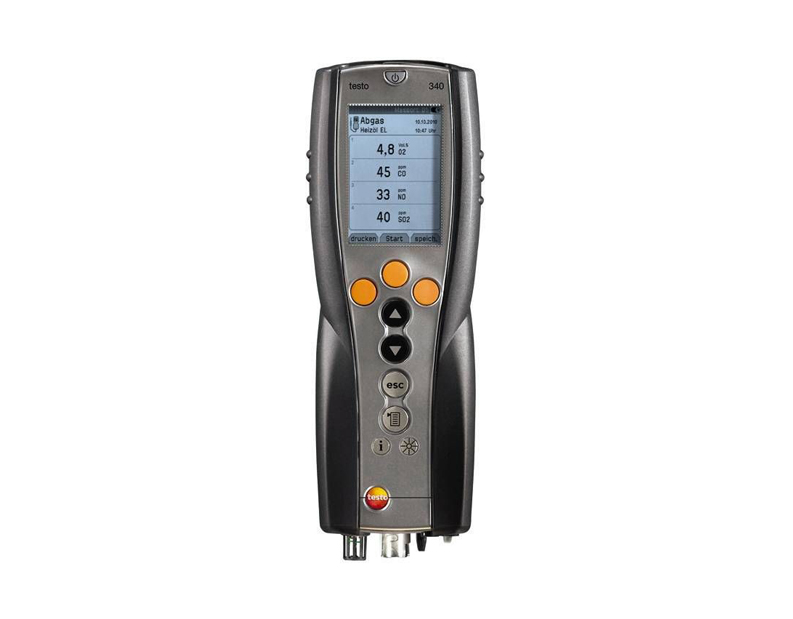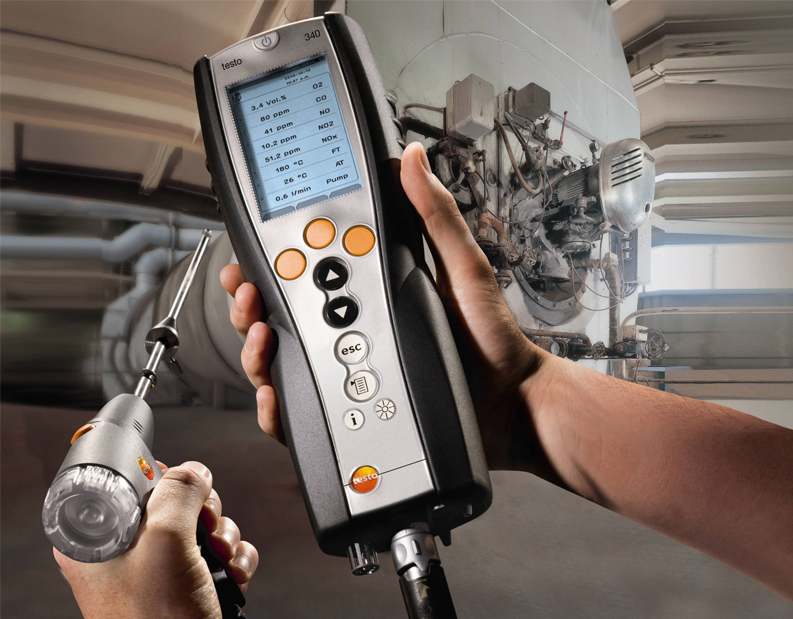 Process, Instrumentation & Environment
Flue gas analyzer portable - testo 340
Flue gas analyzer for use in industry.
Emission checks in industry: Professional technology meets practical design. The testo 340 combustion analyzer is an easy-to-use flue gas analyzer that can be fitted with up to four different gas sensors.

Precise technology: That's what you want to be able to rely on when you're working out in the field. But precise technology is nothing if it is not versatile, easy to use and adaptable for use in the field. The testo 340 flue gas analyzer ticks all these boxes.

The testo 340 combustion analyzer. For industrial emission measurements and more.

Which sensors do you need in the course of your daily work and which measurements do you normally need to carry out? The
Testo 340
comes standard-fitted with an O
2
sensor and four more sensors (CO, CO
2
, NO, NO
low
, NO
2
or SO
2
) for you to choose from, allowing you to customize your analyzer to suit your individual demands. The analyzer's compact design and the reliable technology tucked away inside ensure increased mobility, making it ideal for use in international service operations and for installing or carrying out checks on firing plants or energy production systems. To find out more about the different application possibilities and to see which industrial applications your Testo 340 flue gas analyzer is suitable for just click on the "Applications" tab.
High gas concentrations? No problem with the Testo 340!
The flue gas analyzer has an extended measuring range which allows you to carry out measurements even when gas concentrations are very high (i.e. during industrial flue gas analysis). The extended measuring range (thinning) is activated automatically when high gas concentrations suddenly occur. The demands on the sensor are no different to than when the flue gas analyzer is used in low gas concentrations.
Delivery Scope
Testo 340 flue gas analyzer, calibration certificate, shoulder strap, O
2
sensor and integrated flow and pressure difference measurements.
PLEASE NOTE: Your Testo 340 must be fitted with a second gas sensor for it to work. Up to three additional sensors can be fitted.
Features
Can measure CO, COlow, NO, NOlow, NO2 or SO2;
Extended measuring range for use in environments with high gas concentrations;
Precalibrated gas sensors for quick and easy sensor change;
Integrated pressure difference and air flow measurements for mass flow calculations.
Advantages
Spot measurements for up to two hours;
Simultaneous differential pressure measurement;
Rechargeable battery life of more than six hours;
Ultimate flexibility in the selection of sensors;
Direct display of fuel-air ratio and efficiency;
Measuring range extension and automatic sensor protection;
Always ready for use – even in tough day-to-day working environments;
Separate NO and NO2 measurement;
Special flue gas probes for industrial engines;
Engine-specific parameters.
Industries
Industrial emission control;
Servicing and maintenance work on industrial burners and combustion plants;
Inspections and tuning work on stationary industrial engines;
Emissions measurements on turbines.
Ref. A00604056
F.Fonseca is distributor of Testo in Portugal.