Login
MyFFonseca
If you do not have an account MyFFonseca, please register and get access to exclusive content to registered users!
Create registry
Login
MyFFonseca
If you do not have an account MyFFonseca, please register and get access to exclusive content to registered users!
Create registry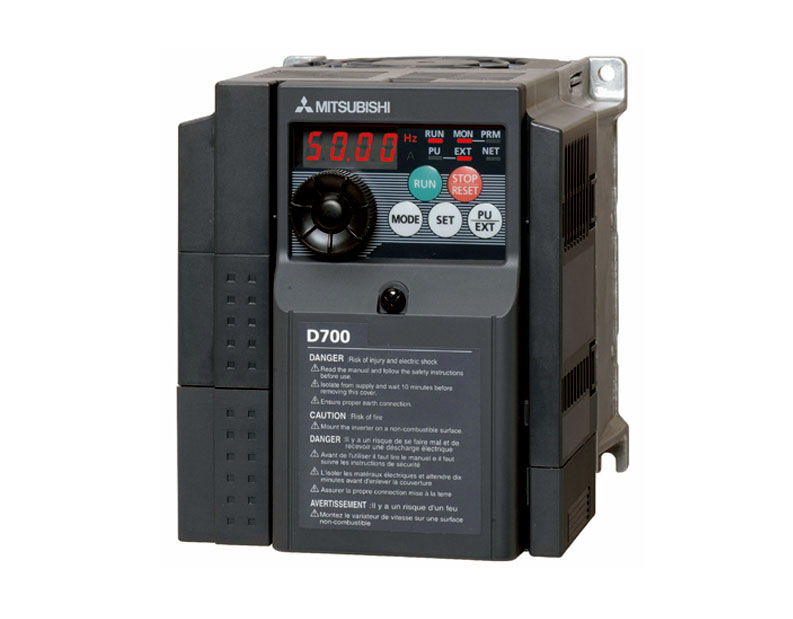 Industrial Automation
Frequency inverters FR-D700 - Mitsubishi Electric
The micro-drive solution!
Simple and safe operability, compact design as well as improved performance features were the focus during the development of the new Mitsubishi FR-D700 frequency inverter. A drive was created that set new standards in the field of compact drives.

Failure safety with self-diagnostics
This inverter actively monitors its own functional safety. If, for example, the fan rpm decreases to 50 %, a pre-alarm is triggered. An internal measuring program monitors the ageing of the capacitors and an operating hours counter enables the operator to plan the best time for servicing. Protection and overload functions like the phase failure monitoring system for both the input and output circuits ensure trouble-free operation.
Additional energy savings
The FR-D700's OEC function helps to further optimize current and hence power consumption of the motor. The result is an additional decrease in energy requirement compared to a conventional inverter.
Long service life
The FR-D700 is designed for a service life of over 10 years. This is made possible, among other things, by high-performance heat- resistant capacitors, cooling fans with sealed bearings and special lubricating grease. The flow of cooling air comes into contact only with the heat sinks and not electronic components. This ensures that no dust or dirt can collect on the components. The circuit boards are protected against aggressive environments with single or double layer conformal coating – another feature that ensures longer service life.
Upgraded functional scope
To protect both staff and valuable machinery, the FR-D700 has innovative functions that enable it to respond with great sensitivity to a variety of external factors.
Features
Simple operation
Simple cabling;
Easy parameterization;
Integrated control unit;
Simple network connection;
Change cooling fan in only 10 seconds;
Controlled deceleration during brief power failures;
Automatic restart after power failures;
Integrated emergency stop function.
More standard functions
Sensorless vector control;
Autotuning;
200% overload capacity;
Side by side mounting;
Integrated brake chopper;
Password function;
Dancer control for winders;
Traverse function;
Regeneration avoidance function;
Flying start;
PTC thermistor input;
Remote I/O.
Ref. A04523073
F.Fonseca is the representative of Mitsuhishi Electric in Portugal.