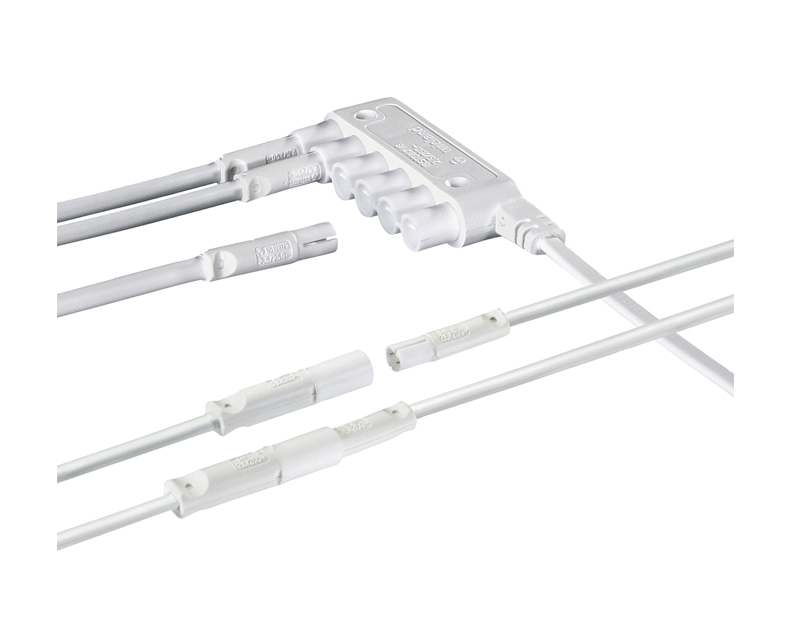 gesis® MICRO makes the electrical installation invisible.
Because is so small, all you need is a drilled hole to run the lines through.

The gesis® MICRO connector system connects your light showcases and on shelves in places where no one else can reach. And it does so in the simplest way imaginable.

Because gesis® MICRO comes as a pre-assembled cable, you do not have to connect the plugs manually, it is all Plug&Play.

This makes the electrical installation inside your furniture invisible from the outside, so that nothing distracts the eye from the things that matter.
Features
Plug&Play system includes: PCB connectors; pre-assembled cables; distributors;
Ideal to connect between each other the several components of a LED lighting system;
References from 2 to 3 poles;
Articles are tested and certified in factory;
Technical data: IP40 (IP54 with accessory); 250VAC/2,5A; 50VDC/6A; cross section 0,75mm².
Advantages
Savings of 70% in time and 30% in costs;
Recyclable and reusable system, and without material waste;
Error free connections due to the mechanical coding system;
Special customized solutions according to each project;
No need for qualified personnel due to the simple Male/Female connection;
Safe system – work can be done even in presence of voltage;
Flexible and easy maintenance.
Industries
Luminaires and lighting systems;
Technical and decorative furniture;
Shelves, racks and exhibits of retail surfaces.
Ref. A11847095
F.Fonseca is the representative of the Wieland Electric in Portugal.