Process, Instrumentation & Environment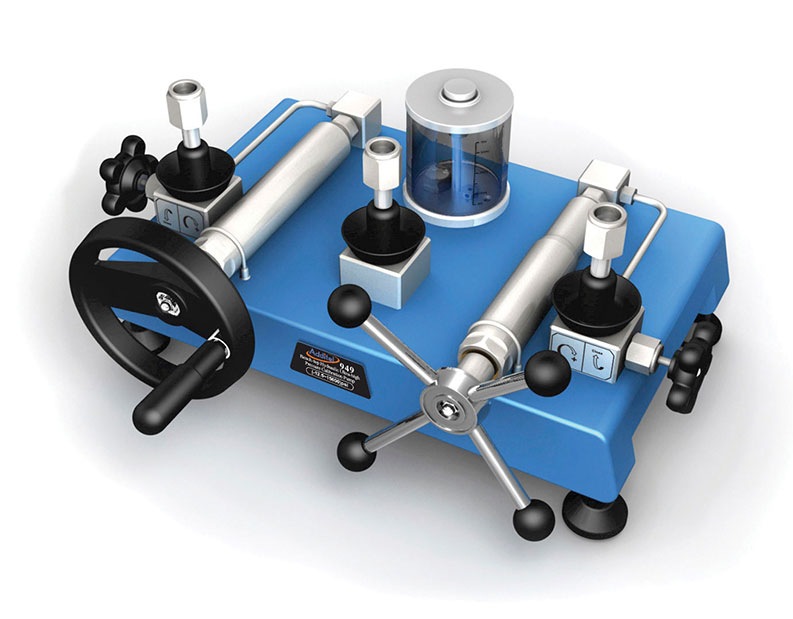 Nowadays almost industries have pressure manometers, transducers and switchs that need to be calibrated or verified. For this purpose we need high accuracy standards to compare with and register the deviation. These standards can be used in the field handheld or in the lab bench.

The 949 hydraulic ultra-high pressure test pump is a hand operated pressure pump designed to generate pressure up to 40,000 psi (2,800 bar).
A specially designed shut-off valve makes the pressure as stable as possible during calibration. The 949 is an ideal comparison test pump for calibrating ultra-high pressure measuring instruments such as test gauges, indicators or transducers in the laboratory.

Features
Media: oil;
Pressurerange: 85% vacuum to 40,000psi (2,800bar) positive pressure;
Connection: test gauge connection: positional autoclave F-250-C, 9/16" - 18 UNF female; reference Gauge Connection: Positional Autoclave F-250-C, 9/16" - 18 UNF female; 1/2BSP female and M20X1.5 female connections are available upon request.
Advantages
Patented screw press technology, without non-returning valve reduces the maintenance to minimal;
With the patented screw press technology, high pressures can be generated easily, as well as increased and decreased smoothly.
Industries
The Additel 949 is designed to generate pressure up to 40,000 psi (2,800 bar) for the application requiring accurate pressure testing and calibration. It can be used in calibrating pressure gauges, transmitters, or other pressure measuring instruments.
F.Fonseca is the representative of Additel in Portugal.