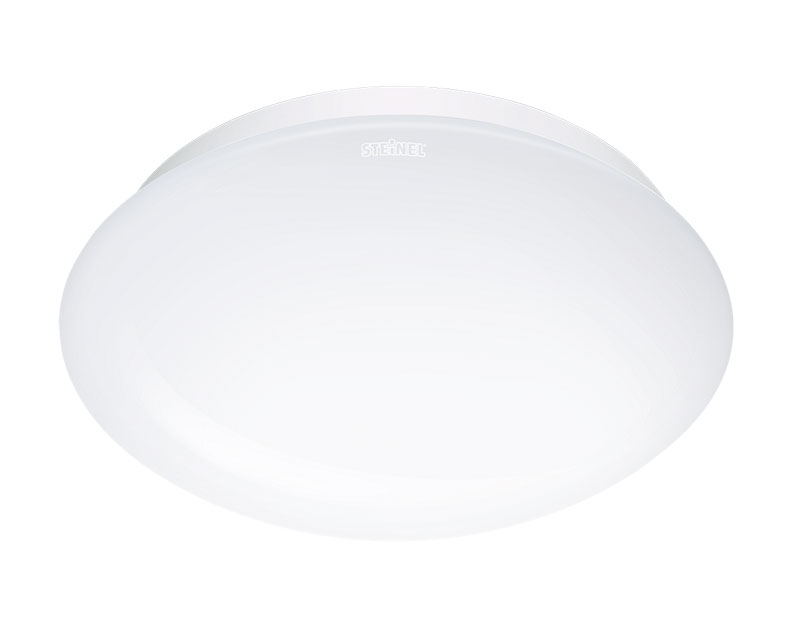 Efficient. Elegant. Pioneering. The ideal gateway to the professional class.
Efficient. Elegant. Pioneering. The new LED high-frequency sensor-switched light RS PRO LED P1. Perfect for bathrooms, corridors, hallways and stairwells. Timeless design. Silent light activation. Uncompromising light output: 9.5 W LED light system delivering 960 lm of light. 360-degree detection zone. Ø 1-8 m reach. Interconnectable by cable.

Today, indoor lighting solutions are in demand that not only provide the last word in convenience and intelligent technology but also integrate harmoniously into the particular interior design. We have found the perfect answer in the RS PRO LED P1. Timeless design and very easy installation combined with pioneering technology and maximum efficiency. Because with the virtually invisible 360-degree high-frequency sensor always switching the 9.5 W LED lighting system ON reliably and in absolute silence, the indoor light is a real bonus for any household, both from the aspect of aesthetic appeal as well as cost-efficiency. The new slave versions are quickly and easily interconnected via cable.
Features
RS PRO LED P1 WW
056063
---
RS PRO LED P1 WW Slave
056056
---
RS PRO LED P1 NW
056032
---
RS PRO LED P1 NW Slave
056049
---
Dimensions (H x W x D)
Ø 280 x 110 mm
---
Power supply
220 – 240 V, 50 / 60 Hz
---
Sensor type
high frequency 5.8 GHz Transmitter power approx. 1 mW
---
Output
9.5 W / 9 W (Slave)
---
Luminous flux
960 lm
---
Colour temperature WW
3000 K / SDCM 3
---
Colour temperature NW
4000 K / SDCM 3
---
Colour rendering
Ra ≥ 80
---
LED life expectancy
50,000 h (L70B10 to LM80)
---
Angle of coverage
360° with 160° angle of aperture
---
Reach
max. Ø 1 – 8 m, infinitely variable, can be limited in 4 directions
---
Twilight setting
2 – 2000 lx
---
Time setting
5 sec – 15 min
---
IP rating / Impact resistance /Protection class
IP54 / IK03/ II
---
Material
UV-resistant plastic and PMMA shade
---
Advantages
Safety, convenience and energy saving because light comes 'ON' automatically;
Extremely rapid response time;
Reliable, all-round detection regardless of ambient temperature and direction of movement;
Reach, twilight threshold and light 'ON' duration can be set to suit individual needs;
Rapid installation: Sensor and light = 1 connection.
Applications
Bathrooms;
Corridors;
Hallways;
Stairwells.
F.Fonseca is the representative of Steinel in Portugal.