Login
MyFFonseca
If you do not have an account MyFFonseca, please register and get access to exclusive content to registered users!
Create registry
Login
MyFFonseca
If you do not have an account MyFFonseca, please register and get access to exclusive content to registered users!
Create registry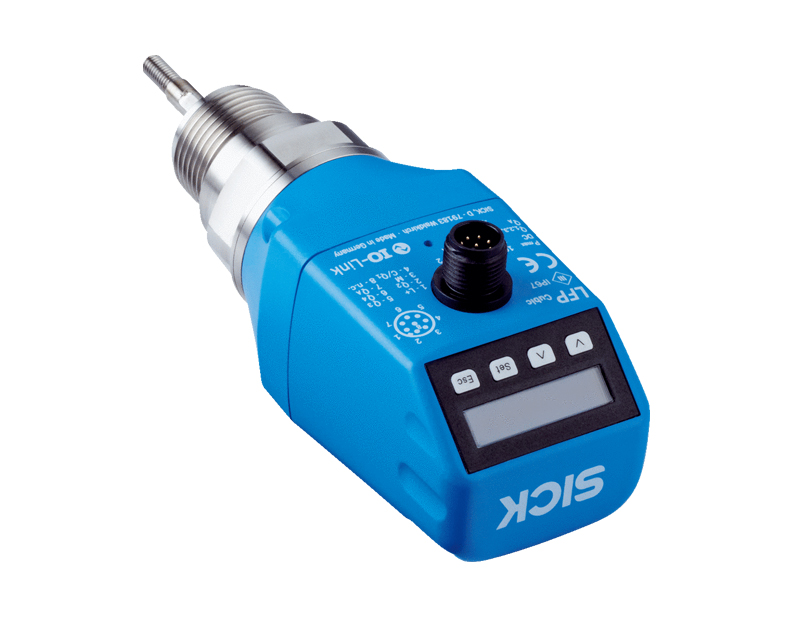 Industrial Automation
Level sensor LFP cubic TDR– SICK
LFP Cubic – Flexible up to the probe tip!
The LFP Cubic from SICK is a level sensor that uses TDR technology (time domain reflectometry) and thus can be used in oil- and water-based liquids without calibration.

The LFP's guided radar uses time-offlight technology to measure electromagnetic pulses. The time difference between the sent pulse and the reflected pulse is used to calculate the level, both as a continuous value (analog output) and a freely position able switching point (switching output). Due to its flexible probe that can be changed or cut, it is possible to integrate the sensor quickly into any application. The LFP Cubic can work in deposit-forming and foaming liquids. The sensor's intuitive setup uses four buttons and a display to ensure quick and easy adaptation to the application.
In addition to the discrete and analog output signals, an IO-Link interface is available to transmit additional valuable process data to the control unit.
Features
No mechanical moving parts;
Manually cutable and exchangeable monoprobe with lengths from 200 mm up to 2,000 mm Immune to deposit formation;
Process temperature up to 100 °C; process pressure up to 10 bar;
Small inactive areas, ideal for small containers;
Accurate measurement, even when liquid type changes;
3-in-1: combined display, analog output (acc. NAMUR NE 43) and binary output;
High enclosure rating of IP 67, rotatable housing.
Advantages
Rugged design increases service life;
High flexibility due to cutable and exchangable monoprobe;
Cost savings due to multiple output signals: one system for both level detection and continuous level monitoring;
Time and cost savings due to low maintenance and quick commissioning;
No calibration or recalibration required for commissioning, thus saving time and costs;
Compact and rotatable housing ensures flexible installation;
No crosstalk when several sensors are mounted next to each other;
Advanced technology enables adjustment-free measurement of oil- and water-based liquids.
Industries
Monitoring coolants and lubricants in machine tooling;
Monitoring cleanser and detergents in cleaning and washing machines;
Monitoring filling tanks in automobile assembly;
Level measurement in industrial processes with difficult ambient conditions.
Ref. A01116025
F.Fonseca is the representative of SICK in Portugal.