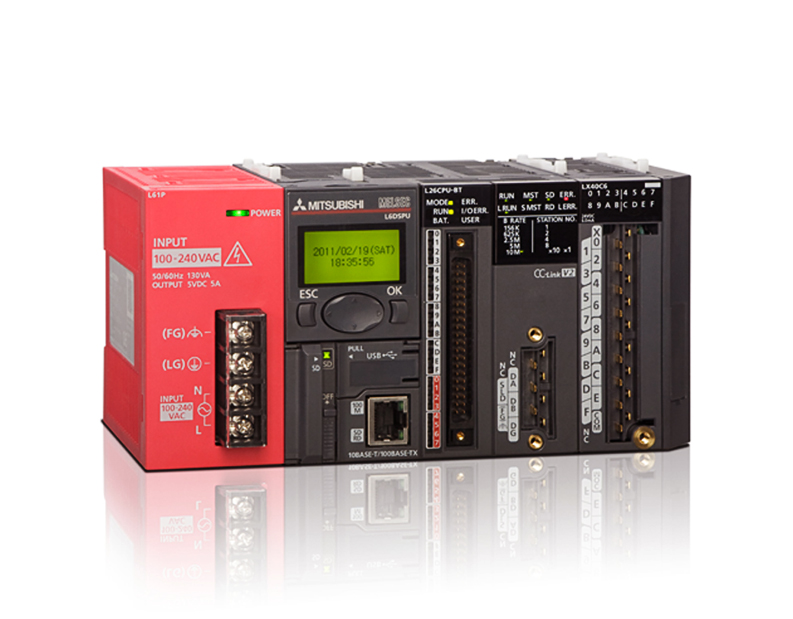 The MELSEC-L Series will innovate and evolve your production site.
Its site perspective achieves excellent ease-of-use.

The MELSEC-L Series has been designed based on a passion for monozukuri (creation), trustworthy technology and reliability. This concept also applies to system installation and operation.

With various I/O functions as standard inclusions, the MELSEC-L Series serves to improve work efficiency by realizing convenience, ease-of-use, and diverse control.
Simple
Convenience that fits in the palm of your hand.
The L series is the latest in a long line of MELSEC products renowned for exceptional performance and rock solid reliability.
Get the performance, functions, and capabilities required for today's most demanding applications in an incredibly small package.
MELSEC-L series greatly expands the range of functionality traditionally associated with compact programmable controllers and through user-centric design, pushes the limits of ease of use.
Flexible
The L series has the ability to flex to meet your application's requirements.
MELSEC L series has been designed with three key concepts in mind.
The first key is reliability.
Mitsubishi Electric products are world renowned for quality.The second is ease of use.
We are committed enabling engineers and programmers to do their job as efficiently as possible to reduce costs.
The third key is flexibility.
L series systems expand to meet the application requirements without wasting money or space.
Save on total costs by designing the system that is a perfect fit.
Features
Compact, easy expansion without basis;
Much of the most important features included in the standard version;
Fully supported in the iQ Works / GX Works2;
Built-in CC-Link master/local station
Advantages
System with high flexibility;
Logging data;
Standard Ethernet and USB;
Advanced programming software.
Industries
All industries in medium sized applications.
Ref. A04521111
F.Fonseca is the representative of Mitsubishi Electric in Portugal.