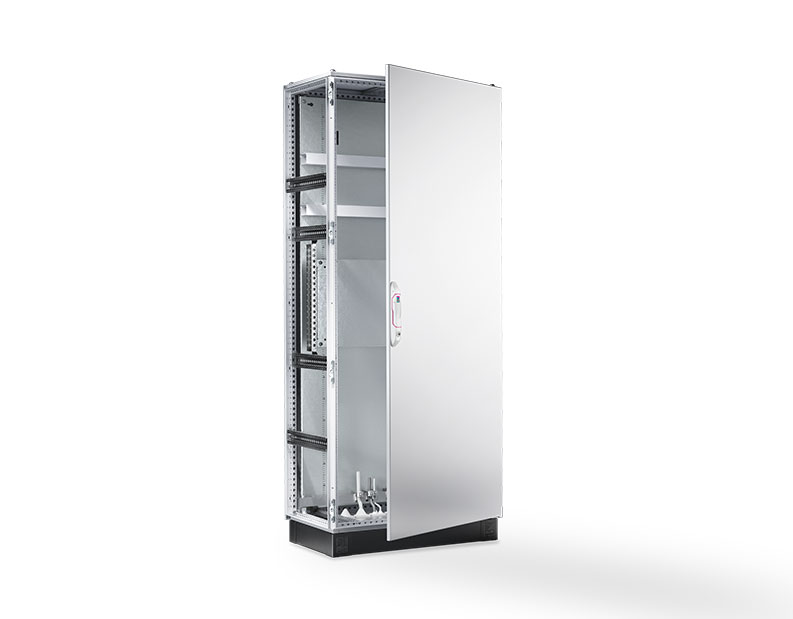 After a success story with more than 10 million TS8 units produced and after five years of development work, Rittal unveils its new VX25 large enclosure system. The development culminated in the new VX25 large enclosure system. VX25 stands for the versatility of options, the fulfilment of x customer requirements and for perfect symmetry through a consistent 25-mm pitch pattern.

Customer benefit along the entire value chain of control and switchgear manufacturing can be summarised in three key points: maximum data quality and a constant supply of data, reduced complexity and savings in time, as well as safe assembly.

The VX system, with its largely tool-free mounting, simplifies assembly, configuration and baying, while at the same time saving time, parts and warehousing costs. It replaces the base/plinth systems TS and Flex-Block. All components are optimised to the VX25 baying enclosure system, and are backward-compatible with enclosure systems TS, TS IT, SE, CM, TP, PC and TE.
The base/plinth system VX is more than just a stable enclosure base with a protective function. In fact, it includes the entire base/plinth area underneath the enclosure, e.g. for accommodating cables or for seamless, secure cable routing from enclosure to enclosure.
Features
Simplified and more consistent baying technology for all applications;
Integrated position aid on the VX25 structure;
Universal base/plinth;
Precise, anti-twist mounting of the base with positioning aid on the VX25.
Advantages
Designed to fit standard lifting trucks;
Even bayed enclosures are easily transported at any time;
180º hinge, reduces de installation time;
Cables securely routed and attached via the punched section with mounting flange in the base/plinth, for time and space savings.
Industries
F.Fonseca is distributor of Rittal in Portugal.