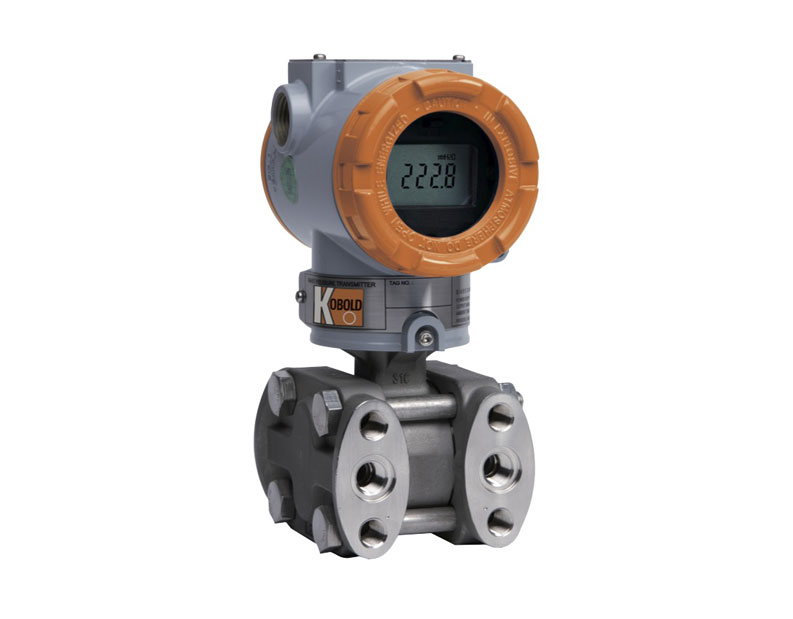 Differences in control.
High flexibility and reliability are the important characteristics of the PAD differential pressure sensor from Kobold. This reliable measuring instrument is just as suited to recording absolute and differential pressure as it is to measuring filling levels and flow rates.
A multitude of measuring ranges from -1 to over 400 bar and the overpressure models up to 750 bar provide solutions for a wide range of applications.

Tried-and-tested
capacitive
or
piezoresistive sensors
ensure high reference accuracy of within ±0.075% of the calibrated span as well as long-term stability. The membrane, which comes into contact with the media during the process, is made of proven, hard-wearing materials (stainless steel, Hastelloy C, tantalum or Monel) and can withstand process temperatures of up to 120°C. With diaphragm seals and optional capillary, one may also have process temperatures of up to +200°C. Special multi-planar flanges make it possible to install the pressure transmitter vertically without separate fitting pieces or diverse mounting plates. The protection class is IP 67. ATEX approval is available for usage in hazardous areas.
The measuring process is monitored and evaluated using a high-quality microprocessor. This includes the automatic compensation of ambient temperature and process variables, sensor calibration and zero-point adjustment, filtering and damping, continual self-diagnosis and adjustment, as well as data transfer and LCD display. The analogue and frequency output relay the measurement values. Operation and integration in automation systems can also take place using the HART® protocol.
Features
Span: 0,75 … 15 mbar up to 4,137 … 413,7 bar;
Static pressure: max. 310 bar;
Tmax: +120 °C;
Process connection: ¼" NPT, ½" NPT;
Various diaphragm seals on request;
Material: stainless steel, HAST-C, Tantalum, Monel;
Various output: 4 ... 20 mA, frequency output;
Sensor input: differential, gauge, absolute pressure;
Digital communication with HART® protocol;
ATEX-approval.
Advantages
Superior performance;
Flexibility;
Reliability.
Indústrias
Applications were measuring pressure, flow and level by differential pressure method is needed.
F.Fonseca is the representative of Kobold in Portugal.