Process, Instrumentation & Environment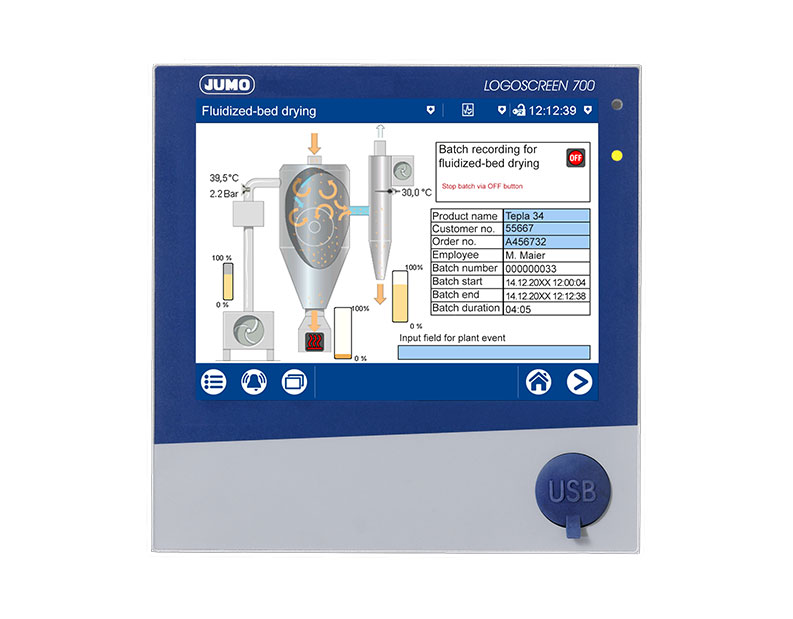 The Logoscreen 700 is the new highly scalable Jumo process recorder.

The Jumo Logoscreen 700 paperless recorder features an intuitive icon-based operation and visualization concept that makes operation easier. Several versions of Jumo Logoscreen 700 are available for process data recording. The high level of scalability allows a flexible adaptation to the various customer requirements: from the logger version without input (120 process values ​​via interface) to different versions of registers with up to 18 universal analogue inputs, 3 analogue outputs, 18 digital inputs, 24 individually selectable digital inputs/outputs and 7 relay outputs. The FDA compliant data recording version meets all requirements in accordance with 21 CFR Part 11.

The Logoscreen 700 has several viewing windows for displaying the recorded data. In addition, you can use the setup program to create up to 10 separate process screens - with up to 100 objects per process screens, according to your individual needs. Up to 5 special batch records are available for batch-based processes. This allows the storage of additional batch-based information. The extra code, "structured text", allows the creation of individual measurement and registration programs.
Features
Intuitive touch operation;
Up to 3 analog outputs;
Up to 10 customer-specific process screens;
PROFINET IO (extra code);
Integrated Web Server for online viewing even on the device;
Register up to 5 reports in batches;
Up to 500 individual texts;
Limit value monitoring function (120 channels);
Measurement of leakage (up to 8 channels);
Up to 8 counter inputs (max 12.5 kHz);
Specific user application using structured text (ST code, extra code);
Data record according to FDA 21 CFR Part 11 (extra code);
Handling detection with digital certificate (extra code);
AMS2750 / CQI-9 (extra code).
Advantages
Scalability;
Ease of use;
Intuitive screens;
Access to the recorder via internet.
Industries
Food and drinks;
Pharmaceutical;
Process;
Thermal.
F.Fonseca is the representative of Jumo in Portugal.