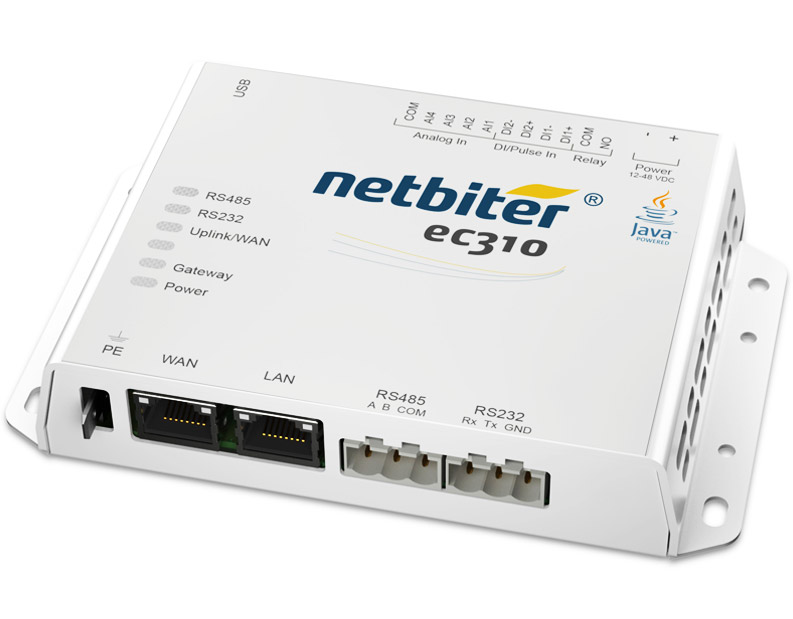 Netbiter EasyConnect EC310.
The Netbiter EC310 communication gateway connects to field equipment via several connection methods: Serial RS-232/485, Modbus RTU, Modbus-TCP or EtherNet/IP.
The gateway sends data to the cloud-based Netbiter Argos data center via Ethernet communication.
On-board I/O ports on the EC310 gateway provides the option to connect sensors and additional equipment to the system.
Features
Powerful ARM Cortex processor for fast data cycle times;
Extended memory capacity supporting up to 512 MB Flash and 1024 MB RAM;
Designed for global use with additional support for 5 different 3G bands;
Two fully separated Ethernet Interfaces (WAN and LAN) makes it possible to provide secure communication to the field installation;
Device connectivity via Ethernet LAN or Serial RS232 and RS485;
Built-in GPS receiver makes it suitable for mobile fleet management applications;
Extendable with on-board analog and digital I/Os allows signals and sensors to be directly connected to the Netbiter gateway;
Transparent Modbus RTU to TCP gateway functionality;
Built-in temperature sensor;
Six status LEDs for detailed diagnostics;
Can be used with Remote Access, View & Control and Manage & Analyze Netbiter Services.
Advantages
FAST AND EASY DEPLOYMENT
Wherever your field equipment is located, just connect it to the gateway and you will be able to access equipment data online in a regular web browser. The plug-and-play functionality makes it possible to perform large-scale installations within minutes.
FOR USE WITH ALL NETBITER SERVICES00000
The EC310 gateway supports all Netbiter Services: Remote Access, View & Control and Manage & Analyze.
Industries
All industries.
Ref. A1432103000013520
F.Fonseca is the representative of HMS in Portugal.