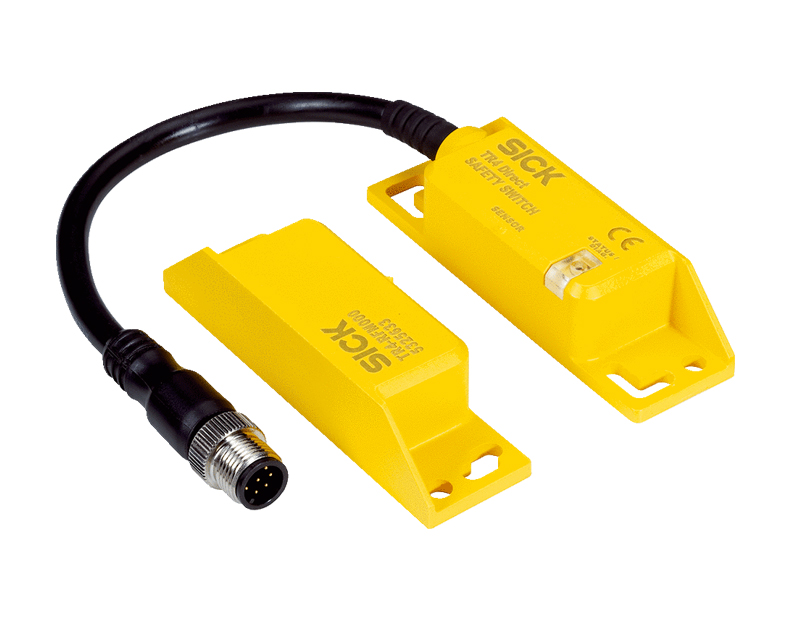 Non-contact safety switches with high level of prevention against tampering.

Transponder safety switches are used in applications where a high level of prevention against tampering is essential. The safety switch determines which actuator code to use and will not engage unless the proper actuator code is read. The safety switches have a wide response range, which is highly beneficial for mounting and considerably reduces machine downtime. Some safety switches are extremely small and have a central evaluation unit in the control cabinet, while others have an integrated evaluation unit with an LED status indicator. Various versions, including multicode and unicode variants, enable connectivity of up to 30 safety switches.
Features
Response range of up to 25 mm;
Sensor and actuator up to enclosure rating IP69K;
Multicoded and unique coded sensors;
Up to performance level PL e (EN ISO 13849);
Two OSSD safety outputs for direct connection of sensors to a single safety controller;
Safe series connection of up to 30 sensors possible;
LED status indicator;
Boundary area indication and magnetic retaining force (both optional).
Advantages
High level of prevention against tampering due to individually coded actuator (depending on type);
High level of machine availability due to high tolerances for door misalignment and boundary area indication;
High level of machine reliability due to resistance to shocks and vibrations;
Cascadability of up to 30 sensors saves costs;
Just one safety switch in conjunction with a suitable safety module makes it possible to solve applications up to PL e and Cat. 4 (EN ISO 13849);
Long service life due to durable and low-maintenance design;
Fast diagnostics via LED status indicator;
The devices are easy to clean, making them suitable for contaminated areas or environments with strict hygiene standards.
Industries
Monitoring of safety doors and removable guards;
Applications requiring a high level of tamper-proofing;
Applications where precise guidance of the safety door is not possible;
Machinery and systems on which vibrations occur.
F.Fonseca is the representative of Sick in Portugal.