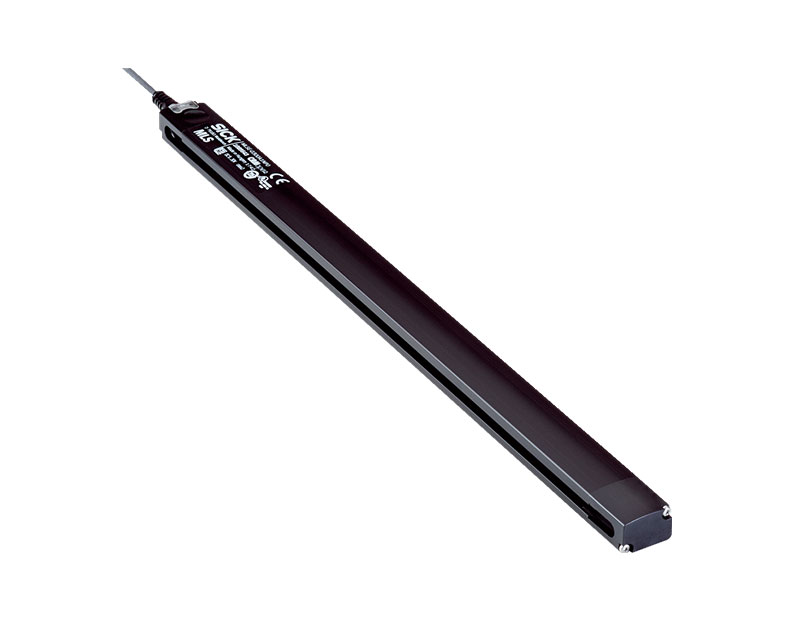 The MLS is a magnetic line guidance sensor for navigating automated guided vehicles and carts. Navigation is done by aligning the sensor to the center of the magnetic line. Sensor positions are transmitted to the vehicle control via a CANopen interface.

The sensor reliably differentiates between up to three lines. The vehicle can therefore maneuver through branches and line junctions with no problem. When selecting the magnetic band and the installation height, the MLS allows for a lot of freedom and is available in various variants with different detection ranges. This enables high flexibility when it comes to design and retrofitting. Magnetic marks for additional vehicle commands can be attached to the side next to the line.

Features
Detection of magnetic lines for line guidance;
Detection of switches: Up to 3 lines at a time;
Resolution 1 mm, repeatability 1 mm;
CANopen interface;
Detection of control marks;
IP65, IP67, IP68;
Ambient temperature –20 °C ... +70 °C;
Variants with measuring ranges of 100 mm to 1,000 mm.
Advantages
Rugged aluminum housing;
Easy installation: Thin housing shape and different measurement area variants;
Quick commissioning without setting optional setting and visualization via a user interface;
Large ground clearance: 10 mm to 50 mm of distance to the magnetic band can be installed;
Safe line detection and differentiation of up to 3 lines for intersections and line junctions;
Monitoring of magnetic strength of the guidance line;
Easy and reliable detection of command marks (STOP, MERGE, SPEED CHANGE);
Complete accessories available: magnetic band for lines and markers, mounting bracket.
Industries
Line guidance for automated guided vehicles and carts (AGVs/AGCs) with magnetic band;
Fine positioning of automated guided vehicles.
F.Fonseca is the representative of Sick in Portugal.