Process, Instrumentation & Environment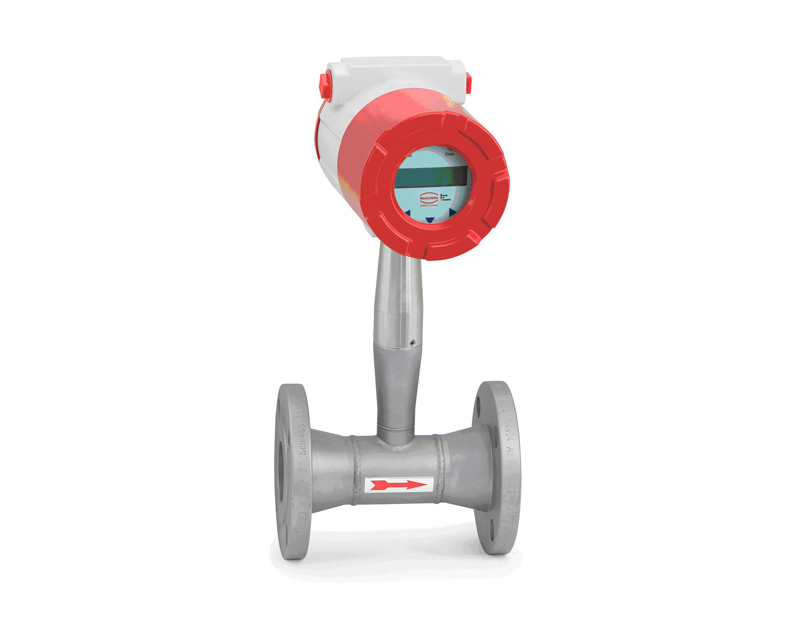 Flow with Integrated temperature and pressure measurementWith integrated temperature and pressure sensor, the DVH VORTEX flowmeter can measure mass, and can be used for energy consumption measurements.

DVH the complete new VORTEX series from Heinrichs Messtechnik has a fully welded design and requires no seals for the velocity sensor.
The velocity sensor is maintenance free, reducing service costs.
Integrated temperature and pressure measurements make this unit a real multi-talent for process conditions up to 100 bar and 400° C.

The unit doesn´t only measure the volumetric flow of liquids and gases but also calculates steam production, permitting real time mass flow measurement. Equipped with a flow-computer and a second independent temperature sensor, energy consumption can be calculated. The meter can be programmed for steam, hot water or cooling water.

The "all in one measurement" makes the DVH very cost effective and allows accurate process measurement.
The DVH offers the industry standard loop powered 2-wire DC power supply or - different to the market standard - a 4-wire AC version up to 230 V. In addition to outputs for totalized mass and alarm settings, the field configurable electronics delivers up to 3 other measurement outputs, including volumetric flow rate, mass flow rate, pressure and density. HART® communication is standard. A MODBUS communication is available as well.
Units can be supplied for pipe sizes up to DN 200 / 8" as inline version with integrated or remote electronics. An Insertion model DVE for pipe sizes up to DN 600 / 24" is available as well.
Features
Measuring range: 3 - 8 ... 3 057 - 280 187 Nm3/h;
Accuracy:
± 0,7 % of reading (liquids);
± 1 % of reading (gases and steam);
pmax: 100 bar abs; tmax: 400 °C;
Connection: ANSI ½" up to ANSI 8", DN 15 up to DN 200;
Material: stainless steel;
Output: 4 - 20 mA, HARTR Protocol;
Sensor design without sealing;
Integrated temperature and pressure measurement;
Measurement of mass and density possible;
ATEX, IEC Ex.
Advantages
Cost effective volumetric flow monitoring solution for most liquids;
Integrated temperature sensor to provide a compensated mass flow reading of saturated steam;
DVH-P multivariable meter delivers mass flow, temperature, and pressure and density readings;
Connections: ANSI ½" up to ANSI 8", DN 15 up to DN 200;
Easy to install and commission;
Field- configurable ranges, outputs and displays;
HART ® Protocol;
FM-approved, IEC Ex / ATEX.
Industries
All were there's the need to monitor the flow of steam, hot water and cold water, namely food and pharmaceutical industries.
F.Fonseca is the representative of Kobold in Portugal.