Process, Instrumentation & Environment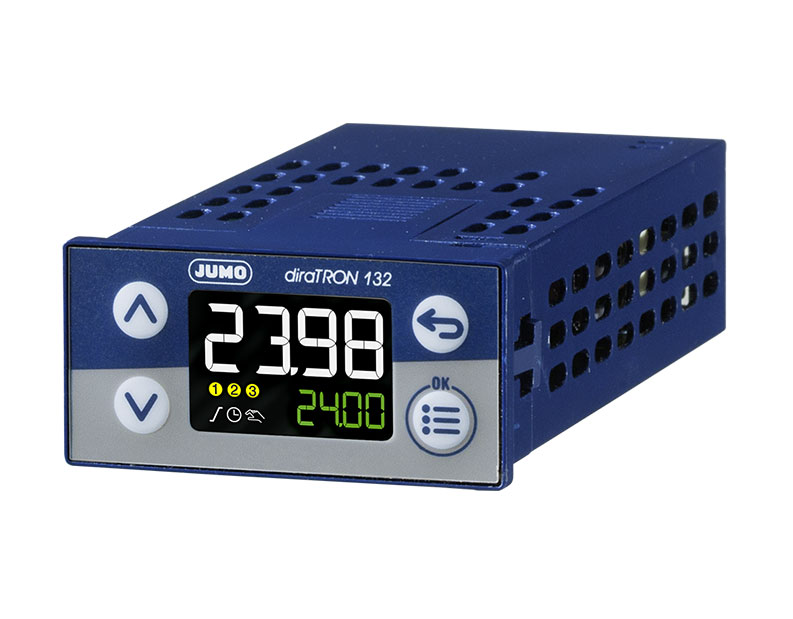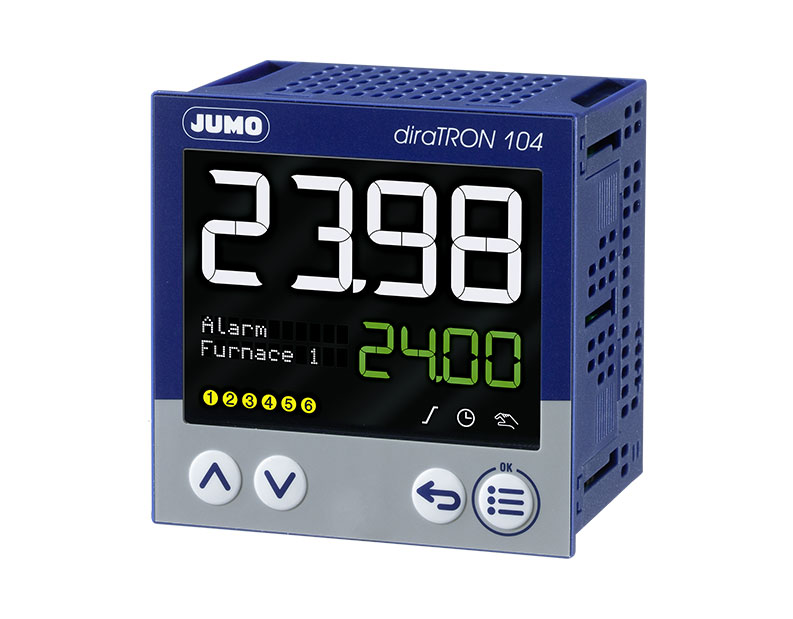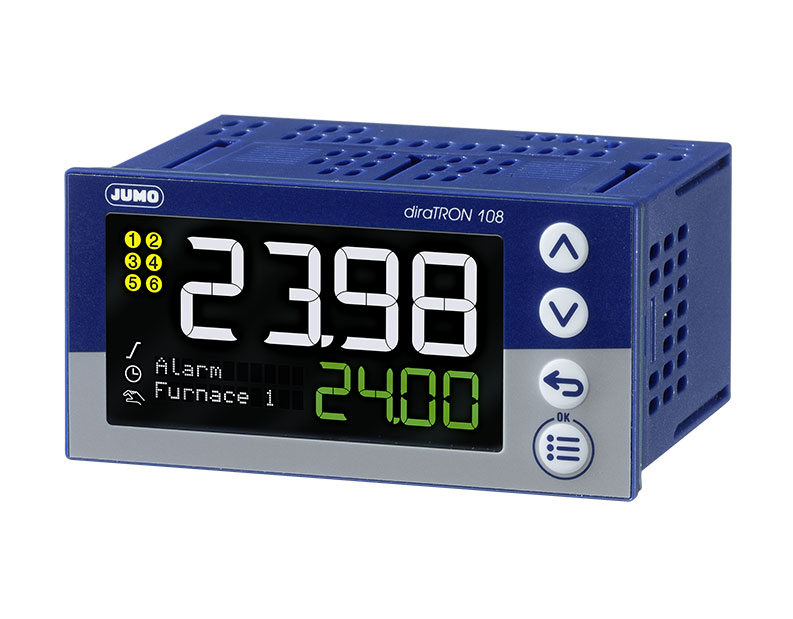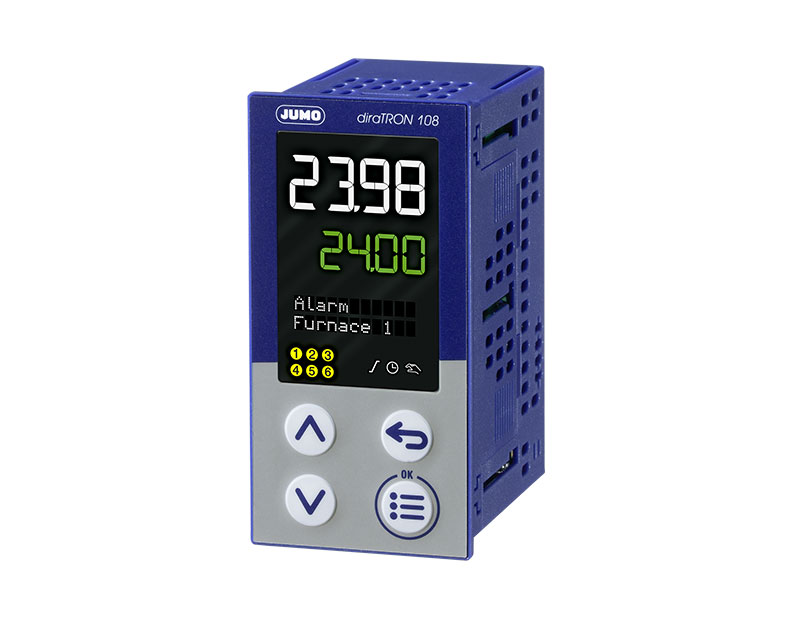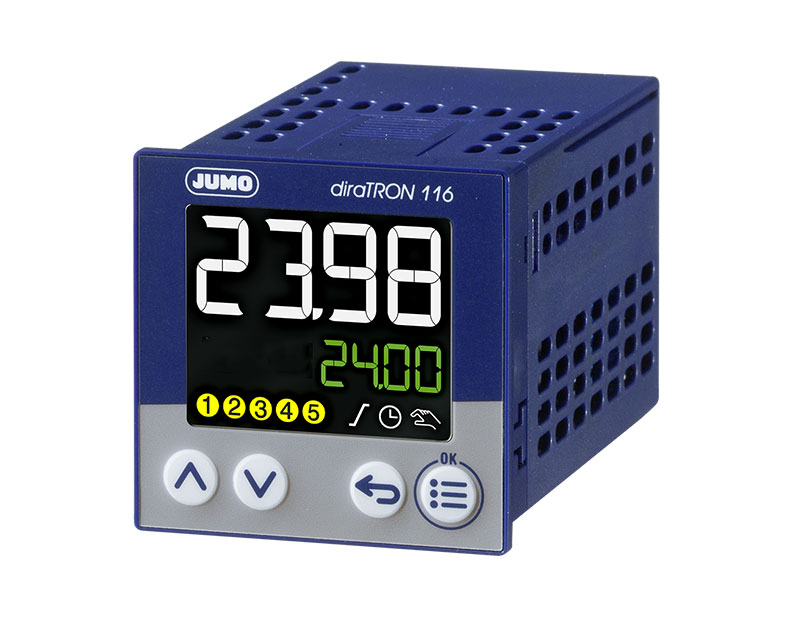 The diraTRON is the newest compact universal controller family from Jumo. With 5 DIN formats, controls temperature, pressure and other process variables.

The diraTRON are characterized by a simple, clearly structured operation, supported with texts. Process values are represented by two 18-segment LCD displays. The types 702112, 702113 and 702114 are additionally equipped with a pixel matrix LCD display for displaying text. In addition, all devices have individual display elements for the switch positions of the outputs as well as for manual mode, ramp function and timer. The devices are operated using a membrane keyboard with four buttons and can be used under harsh environmental influences thanks to the high IP65 protection type.

Depending on the hardware design, the devices can be used as two-state controllers, three-state controllers, three-step controllers, or continuous controllers. The basic type includes auto tuning, a ramp function, a program controller, manual mode, limit value monitoring functions, digital control signals, extensive timer functions and a service counter. A math and logic function is also available as an option. Furthermore, the user has the option to create his own application using structured text (ST code).
The devices can be conveniently configured using a PC with the help of the setup program (incl. program editor and ST editor). No separate voltage supply is required when configuring via the USB interface (USB-powered).
Features
5 DIN formats;
Fixed set-point controller or program controller;
2 parameter blocks;
Autotuning;
Set-point changeover (4 set-point values);
Ramp and timer function;
4 limit value monitoring functions;
Service counter with information about pending maintenance – either as text display or limit value signal;
Individual user level;
Own application using structured text (ST code, option);
Math and logic function (option);
Fast wiring through Push-In technology;
RS485 interface (option);
Additional analog and digital inputs via RS485 interface.
Advantages
Vibrant display;
Simple operation via intuitive user interface and plain text;
Information about usage cycles, regarding maintenance;
Configuration by software.
Industries
Ceramics;
Machine and machine engineering;
Packaging and thermoforming;
Temperature control and drying processes;
Ovens;
Drying chambers.
F.Fonseca is the representative of Jumo in Portugal.