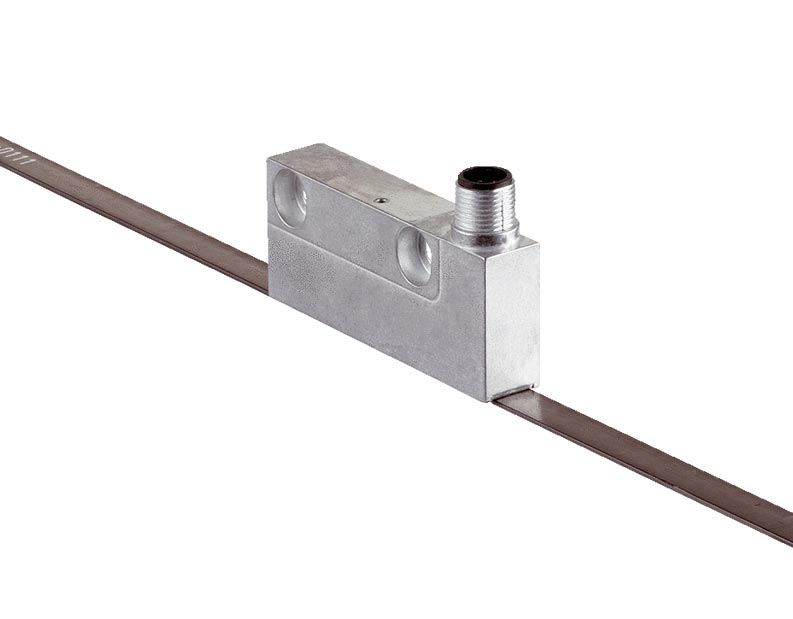 Compact linear encoder with high resolution.

The non-contact principle of operation means that the position is determined without wear. The sensor uses a unique code pattern to record the absolute position information along the reference scale, and sends this information directly to the evaluation electronics. As a result, there is no need for a reference run. Compact systems with high resolutions or rugged solutions with very high measuring lengths (up to 1,700 m) can be used in a wide range of applications.

The TTK70 non-contact linear encoder consists of a compact read head and a magnetic tape. The magnetic tape is equipped with a magnetic partition and forms the measurement scale. The partition consists of an incremental and an absolute track (two-track tape). To calculate the absolute position value, the read head detects both the absolute and incremental components. The position value is directly output for further processing.
The TTK70 has an SSI output for absolute positioning and an incremental Sin/Cos output for recording speed in real time.

Features
Non-contact absolute positioning;
Small, compact read head;
Standard SSI interface, combined with SinCos output;
Measuring lengths of up to 4 m;
Advantages
Easy integration into existing systems;
Small size, low weight and high traversing speed deliver excellent process dynamics;
After installation, the system is immediately available and completely maintenance-free, which leads to time and cost savings;
Immune to environmental factors such as contamination and condensation, ensuring increased reliability;
Real-time speed determination plus absolute positioning due to Sin/Cos and SSI output.
Industries
Positioning the SCARA robot at the conveyor belt;
Automated removal from the workpiece carrier;
Inspection and positioning solutions in chip bond machines;
Printing screen positioning in soldering paste printers;
Quality control using a laser line.

F.Fonseca is the representative of Sick in Portugal.