Login
MyFFonseca
If you do not have an account MyFFonseca, please register and get access to exclusive content to registered users!
Create registry
Login
MyFFonseca
If you do not have an account MyFFonseca, please register and get access to exclusive content to registered users!
Create registry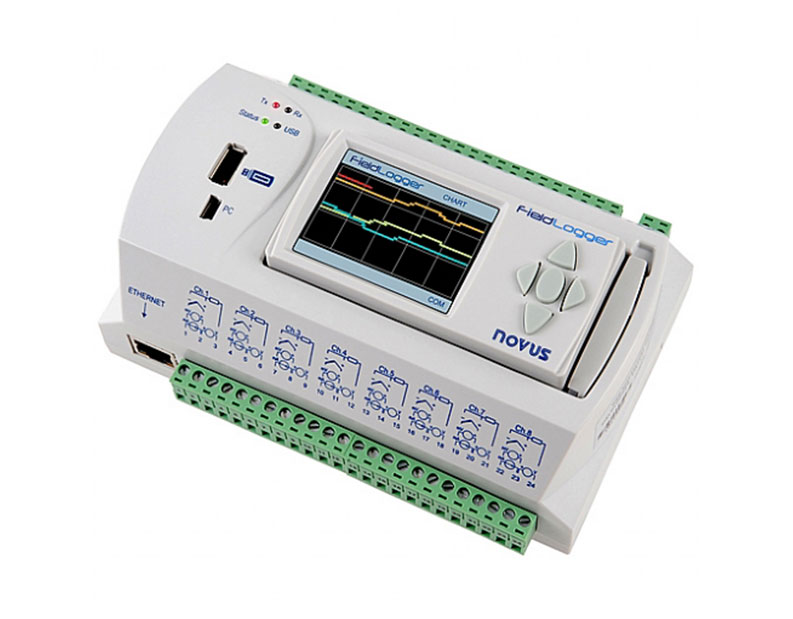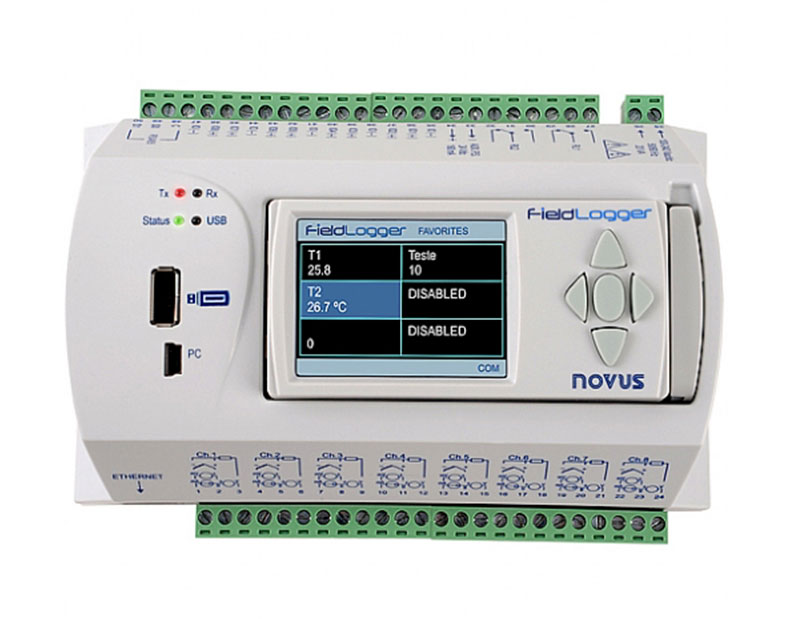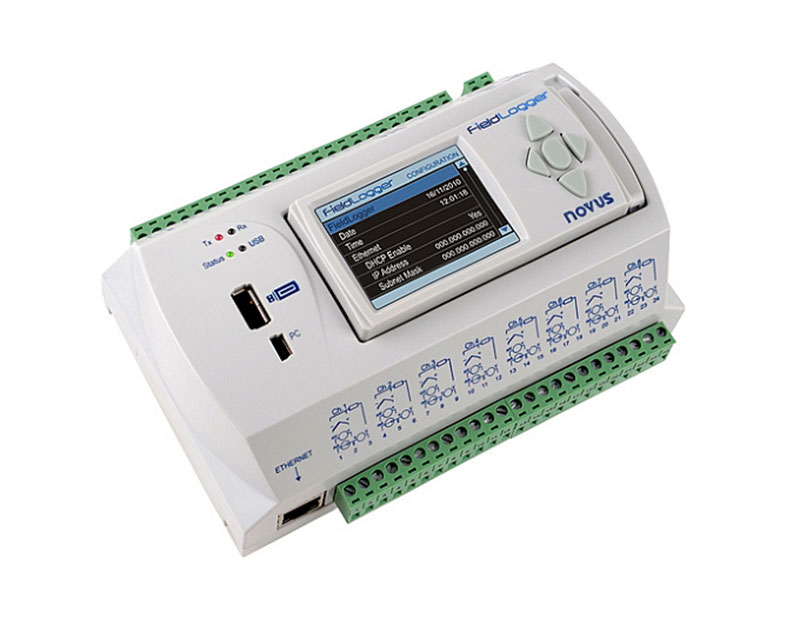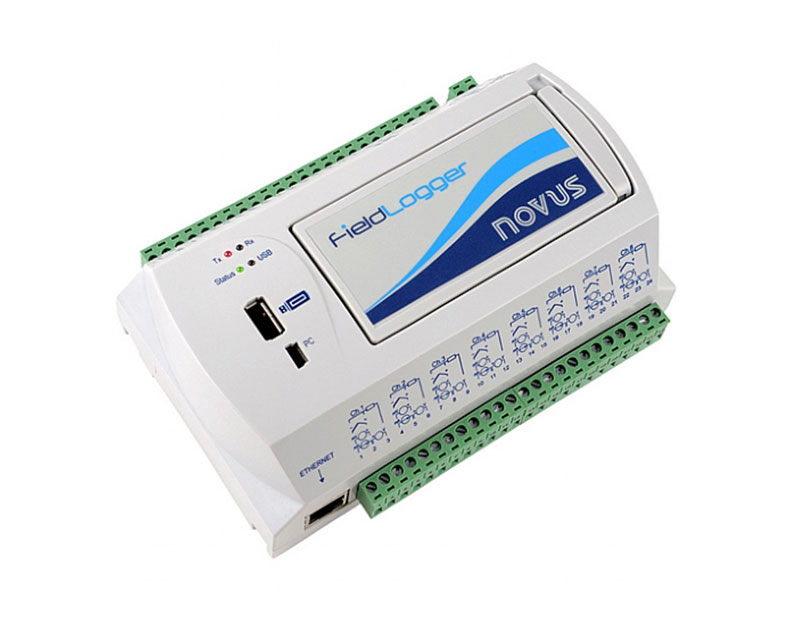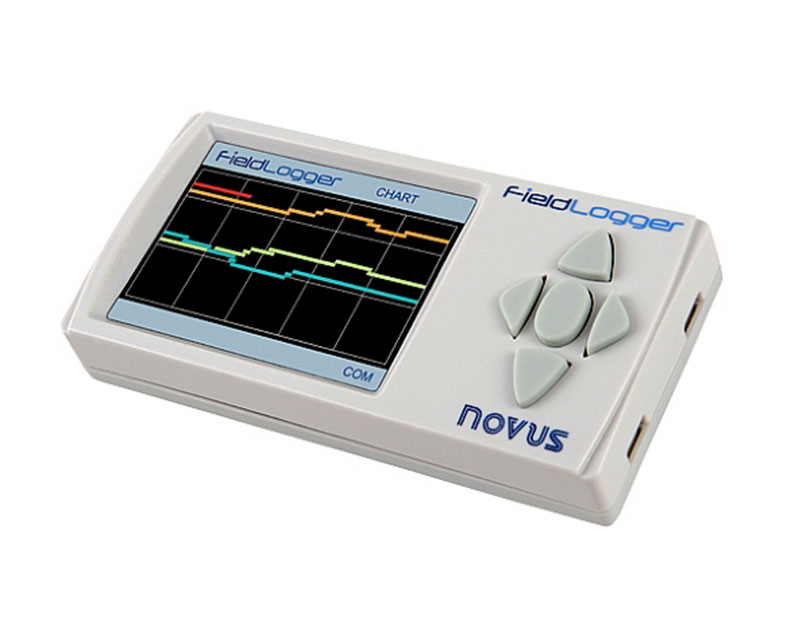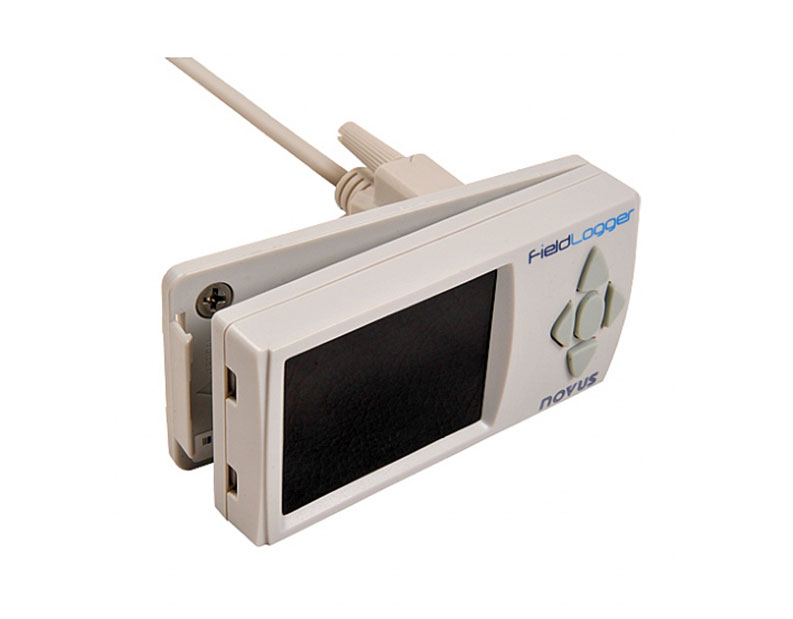 Process, Instrumentation & Environment
Datalogger industrial multichannel FieldLogger - Novus
FieldLogger is a module for reading and recording analog, digital and other variables, with great speed and resolution. It is a high performance and connectivity device, but easy to operate and configure. It allows various types of visualization, registration and information processing. It can also be used as an analog + digital I/O expansion for PLC's in monitoring and control applications.


The FieldLogger has 8 software configurable analog inputs for voltage, current, thermocouple, Pt100 and Pt1000 signals. It has 2 relay outputs and 8 digital ports individually configurable as input or output. It has up to 128 channels for calculating quantities from the measured information. The 32 alarm events allow the triggering of outputs, sending emails or SNMP traps.
The RS485 interface works with Modbus RTU protocol and can be configured as a master or slave, which allows the acquisition of up to 64 external channels for registration. The Ethernet interface allows access to the equipment by browser (HTTP), FTP (client or server), SNMP and Modbus TCP.
One of the USB ports allows you to connect to a computer for configuration, monitoring or data collection. The other makes it possible to connect a Pen Drive for data collection. Its 512k memory can be expanded by SD card.
For viewing or local configuration, the exclusive HMI (optional) with color display can be used, which can be attached or installed remotely.
The user-friendly configuration software allows you to change the settings, whether via Ethernet, USB or RS485, in addition to online diagnostics, collection of records and export to different formats.
Features
8 universal analog input channels;
Thermocouples, V, mV, mA, Pt100 and Pt1000;
Channel read and register rates of up to 1000/second;
24-bit A/D conversion resolution;
8 digital I/Os (individually configured as input or output);
2 relay outputs (NO, NC and common);
RS485 interface (Modbus master or slave);
Ethernet interface with several services available;
USB interface;
Up to 32 configurable alarms;
Up to 128 virtual channels;
Basic mathematical functions;
Memory for up to 512k records, expandable with SD card.
Advantages
Easy installation and configuration;
Big number of inputs and outputs;
Possibility of wireless communication;
Cloud Records.
Industries
Automation;
Food;
Havac;
IoT;
Pharmaceuticals;
Process.
F.Fonseca is distributor of Novus in Portugal.