Process, Instrumentation & Environment?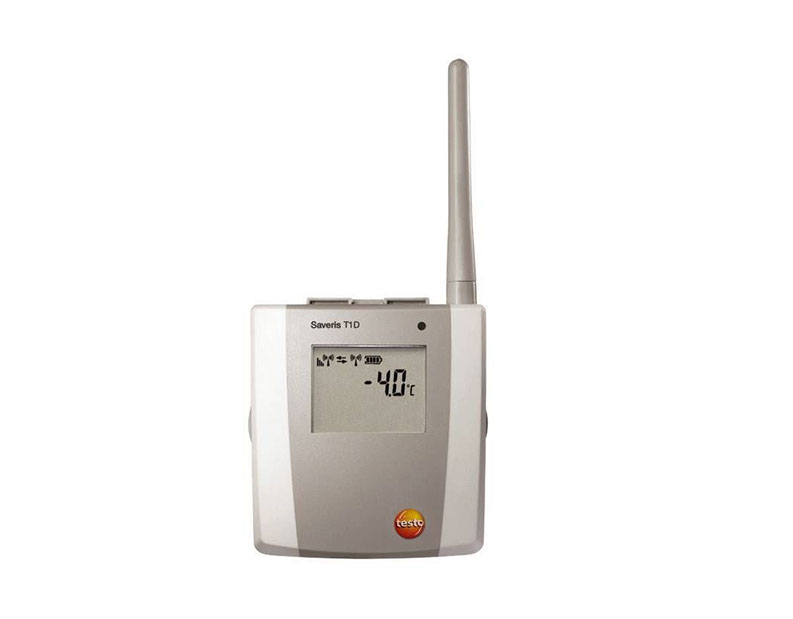 Probe NTC internal radio Saveris T1.
The probes are radio optionally available with or without display. Similarly shows the current measurement data, the battery status and quality of radio signal.

The probes radio-frequency testo Saveris measure temperature and moisture. In the measurement cycle, the probes recorded measurement data and send it to the central base at regular intervals. If the threshold is exceeded, the radio connection is established immediately.

Through bidirectional transmission, the radio frequency probe and the base contact is each other. This, however, ensures that measurement data are only registered and do not suffer interference from other radio systems frequency.

In the open field, the transmission distance is approx. 300 m to a frequency of 868 MHz and approx. 100 m at a frequency of 2.4 GHz in buildings, the transmission distance is strongly influenced by the conditions both the structural walls, doors or metal doors of refrigerators.
The radio link can be increased or decreased in poor conditions structures using a router. Because the probe by radio and the router their present quality of radio connections, the probe can be placed user in a strategic position.
The radio probes are available with or without display. The current measurement data, the battery status and quality of radio link are displayed.
NOTE:
There are still radio probes for measuring moisture and analog current or voltage input.
Features
Probe type: NTC - internal sensor;
Measuring range: -35 ... +50 ° C;
Accuracy: ± 0.4 ° C (-25 ... +50 ° C); ± 0.8 ° C (remaining range);
Resolution: 0.1 ° C.
Advantages
Probes versions with internal or external sensor can adapt to different applications;
In case of interruption in the radio connection, an alarm sounds and probe continues to record data in its memory to prevent them getting lost. A perfectly developed battery ensures the longevity of memory probe.
Industries
Food and drinks industry;
Refrigeration systems industry/HVAC;
Engineers and installers;
Ceramics and glass;
Pharmaceutical industry.
F.Fonseca is distributor of Testo in Portugal.