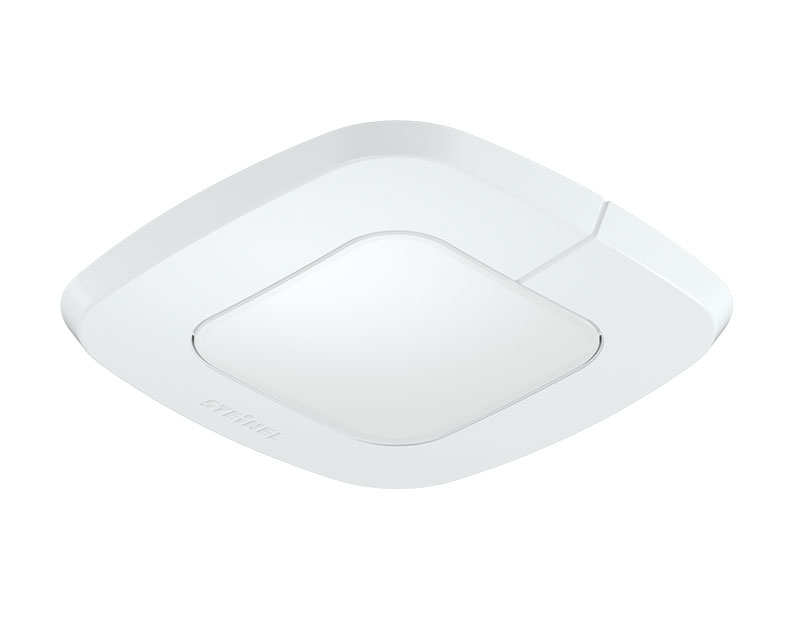 Our slimmest presence detector. Now even smaller in concealed box format.
Noticeably Inconspicuous. IR Quattro SLIM XS, the extra-slim presence detector in concealed-box format. Fits into any standard concealed box. Overall height of just 6 mm. High-precision 360° infrared senor with globally unique retina lens and 16 sq.m square presence detection zone (4 x 4 m). Adjustment via remote control or Smart Remote.

Due to popular demand. The extra slim IR Quattro SLIM XS presence detector virtually disappears in the wall or ceiling. Thanks to the new and practical concealed box format it forms a remarkably unobtrusive symbiosis with the ofifice environment and can now be installed in any standard concealed box. In short: our slimmest presence detector would seem to be pretending it wasn't even there - and yet is absolutely present when it matters. To be prepared for any situation, a round SLIM XS is also available.
Features

Square (80 x 80 x 55 mm)
---
COM1
032951
---
KNX
033033
---
Livelink
03040
---
Round (Ø 94 x 55 mm)
---
COM1
035211
---
KNX
035228
---
Livelink
035235
---
Power supply
220 – 240 V, 50 / 60 Hz
---
Sensor type
passive infrared
---
Installation
indoors/ ceiling
---
Recommended installation height
2.5 - 4 m
---
Square detection zone, presence
max. 4 x 4 m (16 m²)​​​​​​​
---
Square detection zone, radial
max. 4 x 4 m (16 m²)​​​​​​​
---
Square detection zone, tangential
max. 4 x 4 m (16 m²)​​​​​​​
---
Sensor system
PIR with retina lens and hexagonal Fresnel structure​​​​​​​
---
Parallel-connected configurations
master/master, master/slave​​​​​​​
---
User-friendly setting
teach-In (with optional remote control RC8)​​​​​​​
---
Twilight setting
10 – 1000 lux, ∞/daylight​​​​​​​
---
IP rating
IP20
---
IQ mode
Yes
---
Enclosure
UV-resistant, paintable​​​​​​​
---
Advantages
Unique square-shaped detection zone;
All the main connection options (relay, KNX, LiveLink);
Master-master/master-slave systems;
All products in one and the same design;
Pushbutton/switch input for semi-automatic operation;
Constant-light function, permanent light 'OFF' function;
Can be remotely controlled.
Industries
Office buildings;
Commercial spaces;
Hospitals;
Schools;
Airports;
Hotels;
Industrial buildings.
F.Fonseca is the representative of Steinel in Portugal.