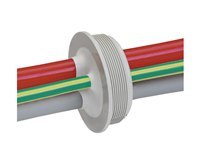 The Murrplastik cable entry membranes are produced of polyethylene and thermoplastic elastomer respectively EPDM.

They are useful for electrical cables and pneumatic hoses used in control cabinets, systems and mechanical engineering. Wherever quick mounting is required with high packing density and cables must be protected, the single-cable en-tries are used.

KDM is a cable entry system for cables without connectors. The various sizes fit to metrical cut-outs from M16 to M32.
Features
Simple, tool-less push-fit installation;
Provides excellent seal to IP66;
Very flexible cross-sectional area (multiple cables also possible);
Fits to standard cut-outs from M16 to M32.
Advantages
Huge time savings in assembly;
High packing density;
Standard cut-out dimensions;
Tool-free assembly (KDM-types are only pushed into the holes);
Very high protection class.
Industries
All Industries.
Ref.
F.Fonseca is the representative of Murrplastik in Portugal.