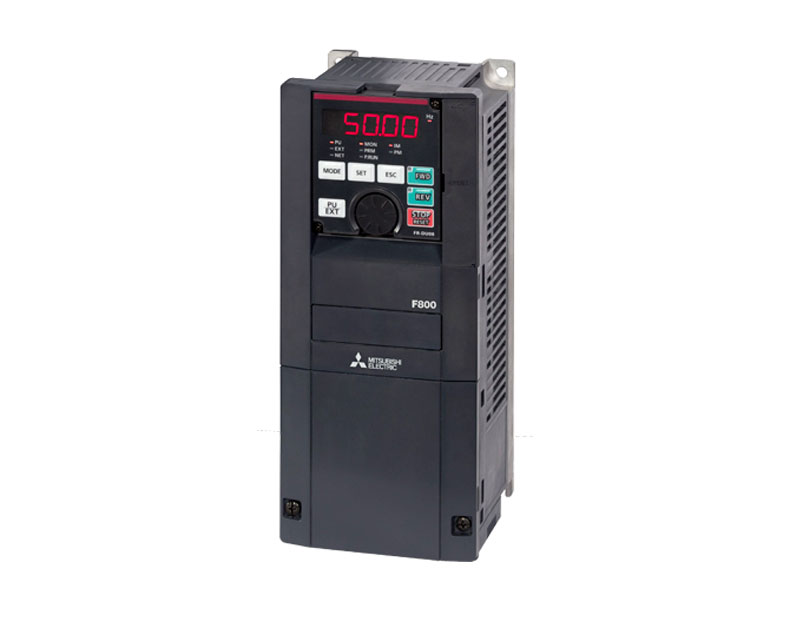 The FR-F800 inverter from Mitsubishi Electric brings even more reliability, intelligence and cost savings to pumps, fans and compressors.

False alarms and trips to unnecessary maintenance work due to disconnected pumps and fans are increasingly unacceptable as the industry drives for greater efficiency and operational readiness. The new FR-F800 drive provides a smart solution to this emerging need and represents the next generation of speed drives for pumps, fans and compressors.

The intrinsically intelligent FR-F800 inverter, from Mitsubishi Electric, virtually eliminates unnecessary maintenance travel, makes commissioning easier and can achieve 98% energy efficiency. It includes advanced features for specific applications such as waste water processing, compressors and HVAC (hot air ventilation and air conditioning).
Reduce Energy Costs
It's a fact that industrial and commer- cial energy users are in increasingly bur- dened by rising energy costs. However, there is a proven way to reduce these high electricity prices by utilising fre- quency inverter control for pump and fan applications. Thanks to the intelligent functions, like Advanced Optimum Excitation Control or the enhanced PID controller, these energy consumption and thus energy costs can be reduced very significantly.
The advanced optimum excitation con- trol (AOEC) continuously adjusts the excitation current to an optimum level providing highest motor efficiency. With a small load torque, a substantial energy saving can be achieved. The newly developed AOEC, provides a large starting torque while maintaining the motor efficiency througout the speed range.
This is done without the troublesome adjustment of parameters (acceleration/ deceleration time, torque boost, etc.).
Fully backward compatible
The
FR-F800 is fully backwards compatible with the FR-F700 series
. Parameters can be easily copied by the programming package FR Configurator2.
Highest quality guaranteed
Mitsubishi is well known for high reliability, because our Ethos is to use only the highest quality components in our products. This means we are able to provide "fit and forget" 3 years warranty.
Features
Models in the 200V-240V range from 0.75kW-110kW;
Models from the 380V-500V range from 0.75kW-630KW;
Communication networks: CC-Link, CC-Link IE, Profibus DP / V1, Profinet, DeviceNet, Ethernet IP, EtherCat, CanOpen, LonWorks, RS485, Modbus, BacNet;
Automatic gain adjustment PID and control with second PID;
Ducted warning function, dry pump protection;
Certifications: European EMC directive, safety directives, marine approvals, TÜV, UL, cUL and CE002E certification.
Advantages
Reduction of energy costs;
Detection of mechanical failures;
Cleaning of fans and pumps;
Soft Restart;
Advanced PID control functions;
Easy configuration;
Easy operation;
Tracking function;
PLC function;
Fully retro-compatible;
3 years warranty.
Industries
Applications: Pumps, fans and compressor
F.Fonseca is the representative of Mitsubishi Electric in Portugal.