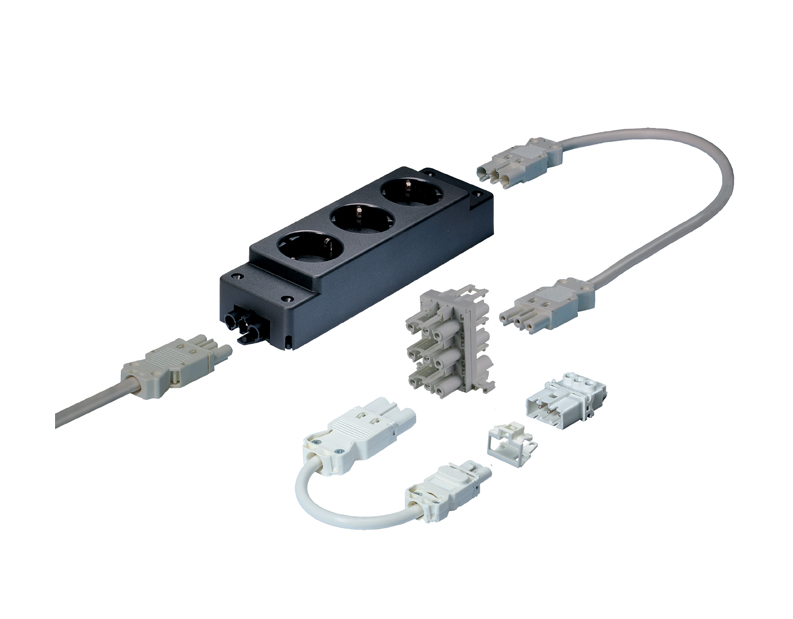 The MINI version of gesis® system is nearly the same has the GST18 series but with a compact design: pluggable electrical installation specially developed for confined spaces.

gesis® MINI meets both demands and combines minimum size with maximum flexibility.Thereby, this is the preferred system for stores, event tents and exhibitions, where a fast and flexible electrical installation is mandatory.

gesis® MINI also has on its strengths the interface for pre-assembling devices, as lighting equipment, office and laboratory furniture, among others …
Features
Plug&Play system includes: connectors; cables; distribution blocks;
Installation in double floors, technical ceilings, cable trays and trunking;
Suitable for power and bus connections;
References from 2 to 5 poles;
Articles are tested and certified in factory;
Technical data: IP40; 250/400VAC; 16A; cross section until 2,5mm².
Advantages
Savings of 70% in time and 30% in costs;
Recyclable and reusable system, and without material waste;
Error free connections due to the mechanical coding system;
Special customized solutions according to each project;
No need for qualified personnel due to the simple Male/Female connection;
Safe system – work can be done even in presence of voltage;
Flexible and easy maintenance.
Industries
Luminaires and lighting systems;
Electrical installation of exhibitions and fairs;
Office and laboratory furniture;
Shelves, racks and exhibits of retail surfaces.
Ref. A11847095
F.Fonseca is the representative of the Wieland Electric in Portugal.