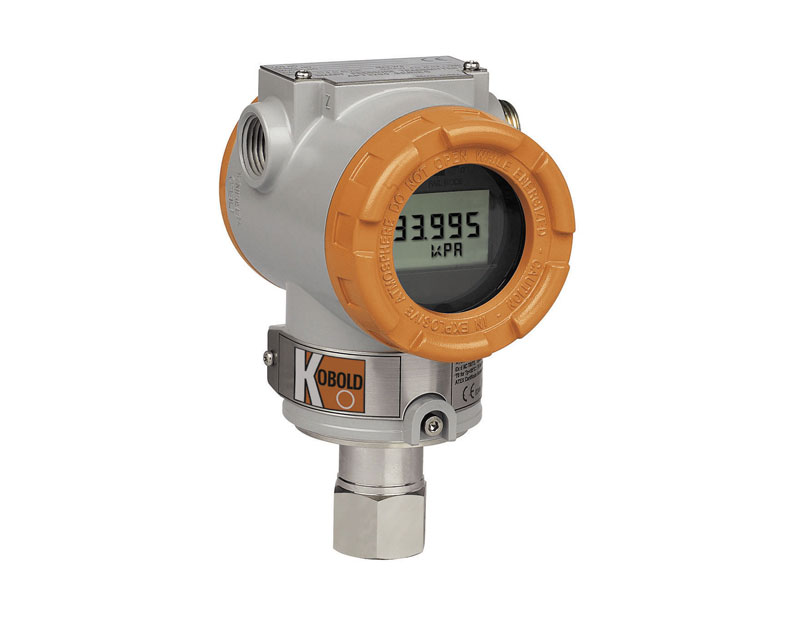 Where pressure prevails.
The Kobold pressure sensor model PAS is a microprocessor-based high performance transmitter which has a flexible pressure calibration and a flexible output signal. It has an automatic compensation of ambient temperature and process variables. A communication with the instrument and a configuration of various parameters is possible via the HART® protocol. All data of sensor is to be input, modified and stored in an EEPROM.

The PAS pressure transmitters enable a precise monitoring of absolute and gauge pressures. The devices available with different measuring ranges between –1...1,5 bar and 0...600 bar, can be used for a multitude of applications.
The heart of this robust and long-term stable measuring instrument is a piezoresistive pressure sensor. The accuracy is ± 0.075% of the calibrated span. Process temperature may range from –40°C to +120°C. Matching connections allow easy and quick installation. An extensive range of accessories according to usual industrial standards is available to adapt the PAS to each application. These accessories include various types of diaphragm seals, which may be connected directly or via capillary tube for process temperatures up to +350 °C, as the application demands.
The measuring process is monitored and evaluated using a high-quality microprocessor. This includes the automatic compensation of ambient temperature and process variables, sensor calibration and zero-point adjustment, filtering and damping, continual self-diagnosis and adjustment, as well as data transfer and a clear, freely configurable built-in LC-display. The pressure transmitter has a 2-wire, 4–20 mA analogue output. Operation and integration in automation systems can also take place using the HART® protocol.
The protection class is IP 67. For hazardous areas, the pressure transmitter is available with ATEX Exd approval.
Features
Span: -1 … 1,5 bar up to 0…600 bar;
Tmax: +120 °C;
Process connection: ¼" NPT, ½" NPT, various diaphragm seals on request;
Material: 316L stainless steel, HAST-C, Tantalum;
Output: 4 ... 20 mA;
Sensor input: gauge and absolute pressure;
Self-diagnostic function: sensor, memory A/D converter, power etc.;
Digital communication with HART® protocol;
ATEX-approval.
Advantages
High reference accuracy;
Application flexibility;
Long-term stability;
Reliability.
Industries
Measurement of relative and absolute pressure in all industries.
F.Fonseca is the representative of Kobold in Portugal.