Process, Instrumentation & Environment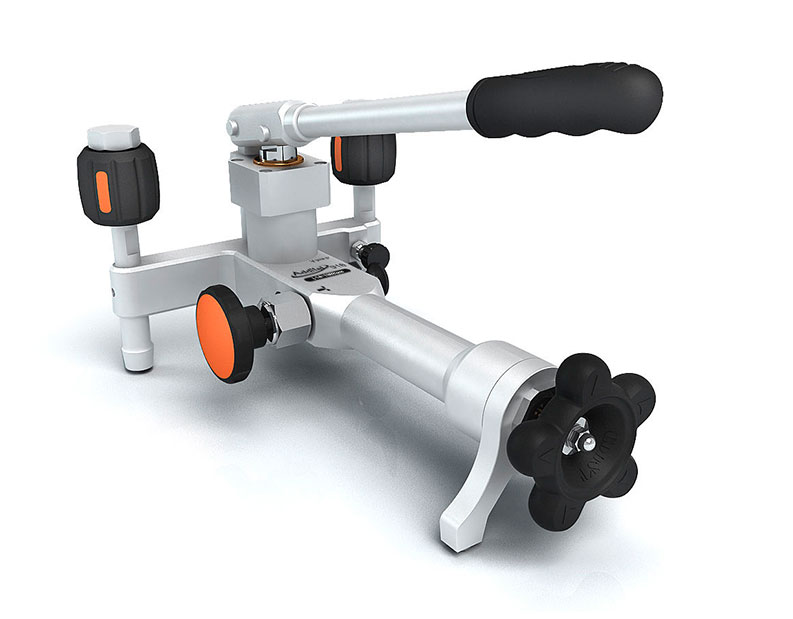 Nowadays almost all industries have manometers, transducers and pressure switches that need to be checked or calibrated.

For this purpose we need high precision standards to compare and record deviations. These standards can be used on the ground or in the lab bench.
The 918 Pneumatic Pressure Test Pump is a manual pressure pump designed to generate pressure from 95% vacuum at 1,500psi (100bar).

Features
Media: air;
Generated pressure range;
95% vacuum to 1,500 psi (100 bar) positive pressure;
Adjustment resolution: 0.001 psi (10 Pa, 0.1 mbar);
Material: ram/adapters: SST;
Body: SST/aluminum;
Seals: buna-N, FTM;
Connection: hand-tight connectors for both test gauge and reference gauge;
Test gauge connection: 1/4NPT female, 1/2NPT female, 1/4BSP female, or M20X1.5 female;
Reference gauge connection: 1/4NPT female, 1/2NPT female, 1/4BSP female, or M20X1.5 female;
Height: 5.5'' (140 mm);
Base: 12.4" (315 mm) x 7.8" (198 mm);
Weight: 5.7 lb (2.6 kg);
Warranty: 1 year.
Advantages
A high-quality screw press is designed for fine pressure adjustment, with an adjustment resolution up to 10 Pa (0.1 mbar);
A specially designed shut-off valve makes the pressure as stable as possible during calibration;
A built-in gas-liquid isolator protects the pump from moisture and dirt to reduce the need for maintenance;
Two hand-tight quick connectors installed on the pump allow easy connecting and disconnecting to the test pump without the need for PTFE tape or wrenches.
Industries
Any type of industry that requires calibration of pressure gauges, transmitters or other instruments.
F.Fonseca is the representative of Additel in Portugal.