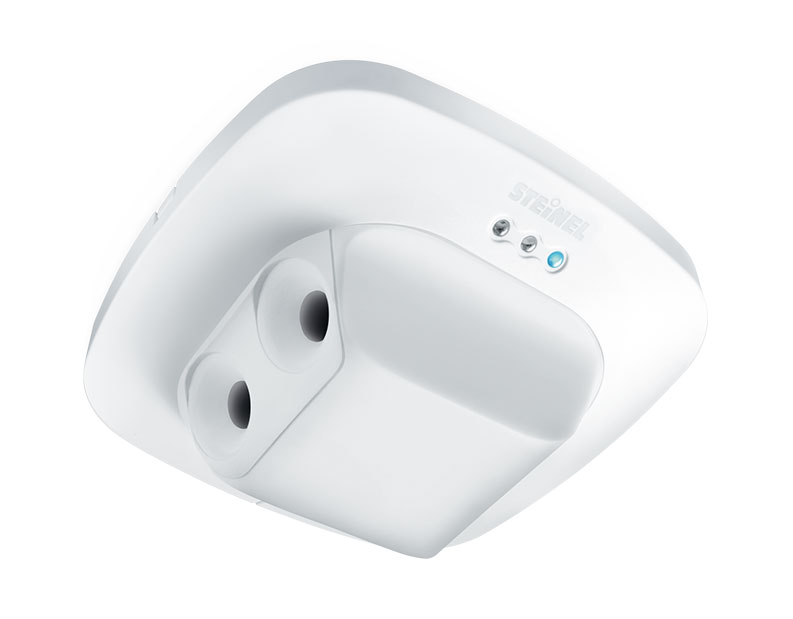 The ideal sensor for small corridors.
Single US ultrasonic motion detector, ideal for corridors, thoroughfares and stairwells as well as WC facilities, washrooms and store rooms. Detection within 10 m, both radially and tangentially, envelops objects as opposed to penetrating them, detection regardless of temperature, electronically adjustable reach, COM1 for switching light ON and OFF.

Simple tasks demand simple answers. This is demonstrated by our Single US 180° ultrasonic sensor. Correctly aligned, it detects any movement in corridors and passageways of up to 10 metres in length – even it they take place behind objects. Movements in adjacent rooms, however, are not detected. This means the sensor only switches light on when it's really needed.
Features
Single US, COM1
007966
---
Single US, COM2
007973
---
Single US, DIM
007980
---
Single US, KNX
029487​​​​​​​
---
Single US, LiveLink
008437​​​​​​​
---
Dimensions (H x W x D)
120 x 120 x 73 mm​​​​​​​
---
Power supply
220 – 240 V, 50 / 60 Hz​​​​​​​
---
Sensor type
ultrasonic 40 kHz​​​​​​​
---
Installation
indoors/ ceiling​​​​​​​
---
Recommended installation height
2.5 - 3.5 m​​​​​​​
---
Angle of coverage
corridor, one direction​​​​​​​
---
Reach
3 x 10 m​​​​​​​
---
Parallel-connected configurations
Yes
---
User-friendly setting
teach-In (via optional remote control RC8)​​​​​​​
---
Twilight setting
10 – 1000 lx​​​​​​​
---
Twilight setting DIM
100 – 1000 lx​​​​​​​
---
IP rating
IP20
---
Enclosure
UV-resistant plastic, paintable​​​​​​​
---
​​​​​​​Advantages
All the main connection options (high-load relay, 2 outputs, KNX, 1–10 V interface);
All products in one and the same design;
Pushbutton/switch input for semi-automatic operation;
Load-free programming with visible LED;
Constant-light function, permanent light 'OFF' function;
Can be remotely controlled;
Concealed, surface and ceiling mounting;
Compatible with all common recessed boxes.
Applications
Corridors;
Passageways;
Stairwells;
WC facilities;
Washrooms;
Store room.
F.Fonseca is the representative of Steinel in Portugal.