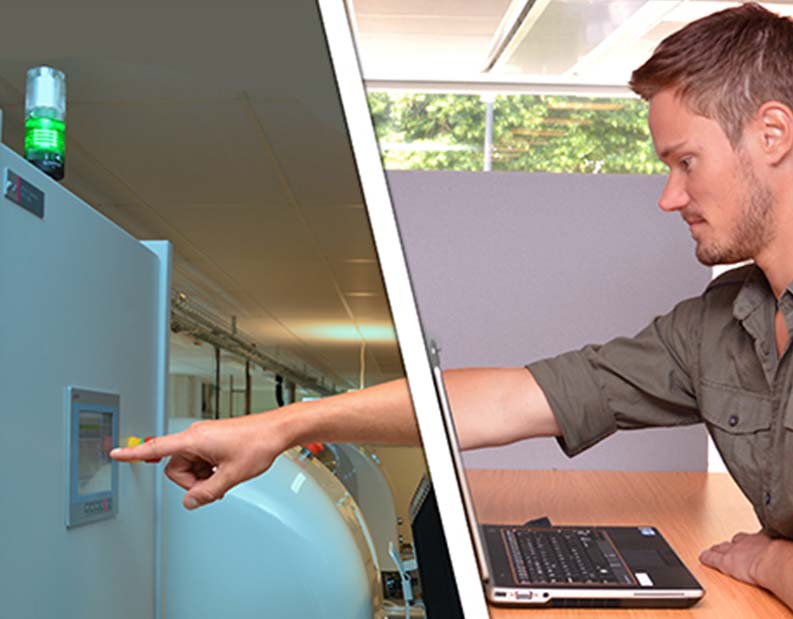 With a Netbiter communication gateway connected to your PLC or machine, you can do programming or debugging from any location.

Just like being on site!
Netbiter Remote Access Mode allows you to open up a secure connection to remote machinery and configure or operate it from any location. You use your standard software applications such as TIA Portal for Siemens applications or RSLogix for Rockwell applications.

The effects?
Fewer maintenance visits, better control and improved service to your customers.

Solid security
Security together with usability are the two main traits of Netbiter Remote Access. Data is encrypted both to and from Netbiter Argos and you can also choose a two-step verification method (you log in with a password and also get an SMS to verify your identity). This ensures secure data connection to your remote equipment.
How it works
On your office computer, you run the Netbiter QuickConnect software and a secure tunnel is created to the Netbiter EC300 which is connected to the remote PLC or machine. You can then simply open your regular configuration software (such as RSLogix or TIA Portal) and configure or debug just as if you were on site.
The connection is set up via the Netbiter Argos data center in the cloud. You set up the connection in a matter of minutes after you have connected your Netbiter gateway.
Advantages
Fast, secure and easy-to-use cloud-based solution for System Integrators and Machine Builders to remotely access industrial equipment anytime, anywhere;
Enables remote programming or debugging of industrial PLCs using standard configuration software (such as RSlogix, TIA Portal, GX Developer etc), just as if connected to the PLC/machine on site;
Access equipment 24/7 using any of the Netbiter EC300 series communication gateways and the cloud-based Netbiter Argos™ data center;
Machines / PLCs connect via Serial RS232/485, Ethernet WAN or LAN Data communication;
The Netbiter gateway sends and receives data via Ethernet or cellular 3G networks;
Creates an encrypted data tunnel to the remote equipment. Netbiter uses a unique 2-step indetification method for login access to your devices;
Uses Netbiter Argos as an intelligent routing portal. This means that you don't need an IP-address for the Netbiter gateway, nor do you need a fixed IP SIM card;
Included feature when purchasing a Netbiter EC300 series commuication gateway. Free of charge for data usage up to 1GB per month. Subscription-based for higher data usage;
Fast deployment and a scalable solution, more functionality can be added if needed;
For 3G cellular communication no fixed IP SIM cards are required. Use your local supplier!
Industries
F.Fonseca is the representative of Anybus - HMS in Portugal.