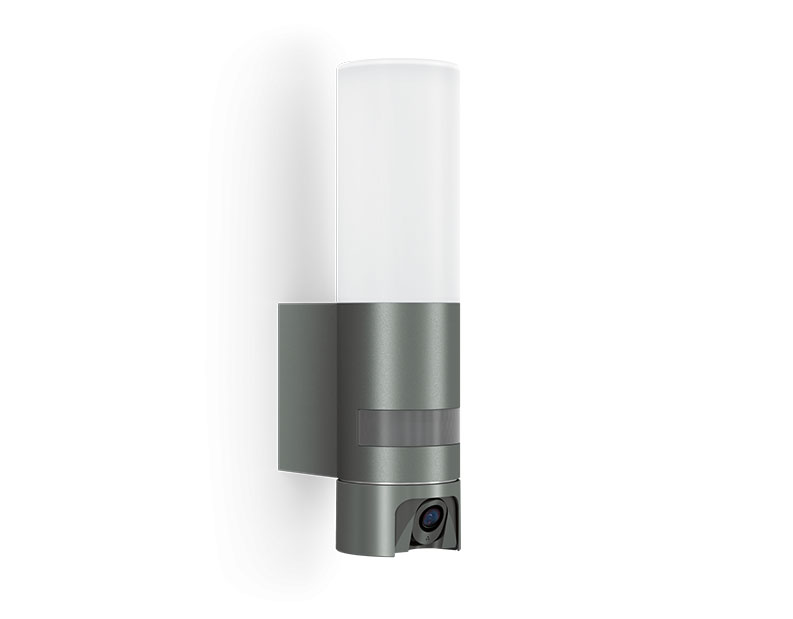 Smart. Safe. Intelligent.
L 600 CAM is a sensor-switched camera and intercom system in one product. With integrated micro SD memory card and camera to get razor-sharp images onto the smartphone or tablet (Wi-Fi and app-based). Enclosure in aluminium and high-quality opal glass. 180° infrared motion sensor with 10 m reach. Warm-white light: 3000 K and 781 lm at 14,3 W.

The outdoor L 600 CAM provides more than light and security. Much more. The sensor-switched light with durable aluminium enclosure and high-quality opal glass is the first Wi-Fi-based camera light from Steinel and is always in touch with you via app. As soon as the 180° infrared motion sensor with a reach of 10 m detects movement, the light is switched ON and you receive a message on your mobile device. The precision-adjustable camera transmits images of your entrance area to your smartphone or tablet via Wi-Fi and provides you with the option of interacting. You can see and hear exactly what is happening outside your front door, and you can communicate from your smartphone or tablet via the built-in intercom unit. As soon as movement is detected, the corresponding images are saved to a micro SD card installed in the light. Thanks to the warm-white light with 3000 K and 781 lm, and an output of 14,3 W, even the darkest shapes are always well illuminated.
Features
European article number (EAN)
4007841052997
---
Dimensions (L x W x H)
131 x 78 x 305 mm
---
Mains power supply
220 – 240 V , 50 / 60 Hz
---
Mounting height max.
2,00 m
---
Output
14,3 W
---
Luminous flux
781 lm
---
Efficiency
54 lm/W
---
Colour temperature
3000 K
---
Colour rendering index
CRI 80-89
---
LED life expectancy (max. °C)
50000 h
---
LED cooling system
passive thermo control
---
With motion detector
yes, passive infrared
---
Detection angle
180º
---
Angle of aperture
90º
---
Reach, tangential passive infrared
r = 10 m (157 m²)
---
Photo-cell controller
yes
---
Twilight setting
10 – 10000 lx
---
Time setting
60 sec – 15 min
---
Basic light level function
yes
---
Soft light start
yes
---
IP rating
IP44
---
Protection class
I
---
Ambient temperature
-10 – 40 °C
---
Housing material
aluminium
---
Cover material
glass opal
---
Manufacturer's warranty
3 years
---
Settings
via Smartphone
---
Advantages
HD wide-angle colour camera;
Integrated intercom unit;
Communication via smartphone;
Micro SD card (8 GB included);
House number illumination throughout the night;
Including Steinel LED system;
Adjustable night light when dark (0 - 40%);
Adjustable main light level (30 - 100%);
High-quality opal glass shade.
Industries
Private houses;
Residential buildings;
Warehouses and industrial buildings.
F.Fonseca is the representative of Steinel in Portugal.