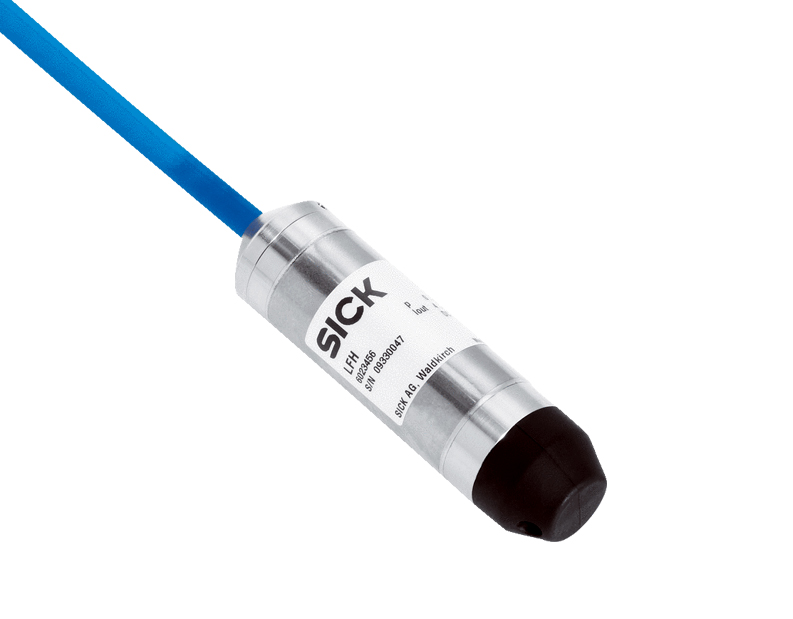 The level probe LFH, from Sick, is a robust pressure transmitter for continuous level measurement.

The liquid column above the probe creates a hydrostatic pressure which is a direct indicator for the liquid level. Through its permanently connected
cable the LFH is submerged into the liquid to be monitored. Thus, the container wall does not need to be disturbed to fit a level sensor.
Features
Immersion depth up to 100 m (optionally up to 250 m);
Measuring ranges from 0 ... 1 mH2O to 0 ... 100 mH2O (optional up to 250 mH2O);
Stainless steel membrane;
Hermetically sealed stainless steel housing with protection cap made from PA;
Enclosure rating IP 68;
Available with various cable lengths;
Cable made from PUR, FEP-cable for aggressive media optionally available;
Maximum tensile strength of the cable 1000 N;
Optional temperature measurement with integrated Pt100-element, 4-wire.
Advantages
LFH – At a high level, hydrostatic level probe
Enables level measurement under difficult conditions where other measurement technologies fail;
No openings required in the wall of the vessel;
For cleaning purposes the probe can easily be taken out of the liquid:

High reliability through rugged design and robust materials.
Industries
All, wherever is needed to measure level of liquid or solid materials:
Deep well;
Hydrostatic level measurement in large vessels;
In water up to 100 m depth (optionally up to 250m);
Sewerage plants.
Ref. A01116025
F.Fonseca is the representative of Sick in Portugal.