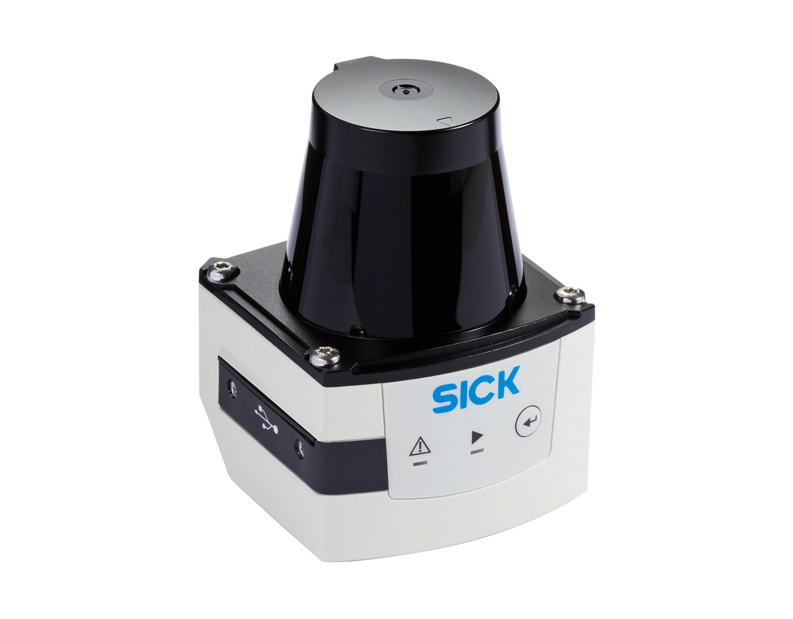 More than simple object detection: The TiM5xx 2D laser scanner is a noncontact ranging solution within the TiM series from Sick. Thanks to its HDDM technology (High Definition Distance Measurement), the TiM5xx monitors large areas in indoor and outdoor applications
– regardless of the surface or ambient light. Enclosed in a compact, rugged housing, the TiM5xx provides accurate measurements of the scanned surface, making it possible to determine additional information such as the size and shape of objects. The TiM5xx can
be used in variety of industrial applications as well as in building automation.

The integrated Ethernet interface makes easy implementation and remote maintenance
possible. The TiM5xx is an efficient solution for stationary use as well as for use on automated guided vehicles (AGV) and other mobile applications.
The
TiM5xx
is incredibly flexible. At short range, it is able to see, report, and monitor its surroundings. It measures the area in its vicinity with incredible detail – up to 10 meters in 1° increments. If something is amiss in the scanning field, it will spot it. The TiM5xx outputs measurement data for each individual angle in the form of a machine-readable data string (ASCII/binary format). Everything – including object distance and signal strength – is relayed via a USB/Ethernet interface for subsequent visualization in SOPAS. Integration in customer-specific applications is also supported.
And now for the really crazy thing: the
TiM5xx
is surprisingly small. As a result, it can be integrated into a wide range of environments – detecting distances from containers in ports or the movement of people inside a building, for example. Never one to be distracted by dirt, dust, moisture, or ambient light, it is unbelievably easy to network harsh environments.
Features
Monitoring area of up to 235 m² with just one sensor;
High ambient light tolerance due to HDDM technology;
Rugged housing with up to IP 67 enclosure rating;
Low power consumption of just 3 W;
Compact design with a housing height of just 86 mm maximum;
Integrated Ethernet interface;
Long sensing range of up to max. 10 m;
Industry-standard design and M12 male connector.
Advantages
Reliable object detection independent of the surface and ambient light;
Rugged IP 67 housing withstands both indoor and outdoor conditions;
Easy integration into compact automated guided vehicles (AGV) due to small size;
Ethernet interface makes easy implementation and remote maintenance possible;
Can determine additional information such as object size, shape, etc. due to measured data output;
Low implementation costs due to scalability: Sensor telegram is identical to sensor telegrams for laser measurement sensors in the SICK portfolio.
Industries
Logistics;
Robotics;
Ports;
Building Automation.
Ref. A01108166
F.Fonseca is the representative of Sick in Portugal.