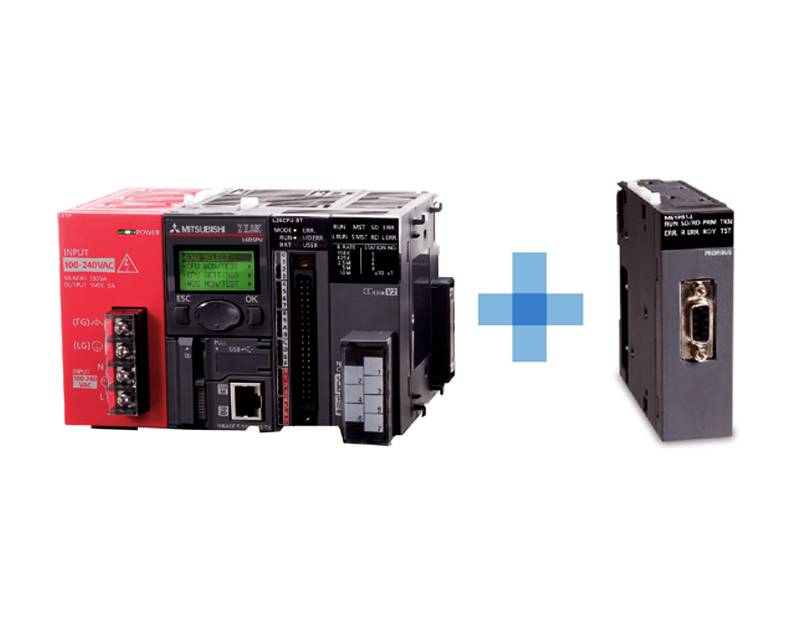 The new PROFIBUS DP master card creates a world of possibilities for Mitsubishi Electric L-Series PLCs.
It is still one of the most popular field networks in Europe, used in many industries, being the most successful fieldbus in the world with 43.8 million devices installed.

The Profibus network is one of the most used automation networks in Europe.
With a wide range of equipment compatible with this network and available in the market and already installed in the industry, the L series PLCs from Mitsubishi Electric are able to integrate any new or already installed automation system, when connecting in a communication network Fast and robust.

The GX Configurator DP software and the
Profibus master modules from Mitsubishi Electric
combine to offer an easy and intuitive way, a parameterization of the simplified network, with the necessary flexibility to the industrial world. The configuration software is self explanatory, using a graphical method to set up the network. Simply select the slave unit, assign the station number and specify where the exchange of information between devices will be made.
As it is an open network, Mitsubishi Electric Profibus units can also be connected to master and slave devices from other manufacturers.
Features
Possibility to connect up to 128 DP slaves;
Supports DP-Master DPV1 and DPV2;
Slaves error diagnosis;
Global control functions;
Easy and intuitive parameterization via GX Configurator;
DP together with GXWorks2.
Advantages
Possibility to communicate with equipment in Profibus.
Industries
F.Fonseca is the representative of the Mitsubishi Electric in Portugal.