Login
MyFFonseca
If you do not have an account MyFFonseca, please register and get access to exclusive content to registered users!
Create registry
Login
MyFFonseca
If you do not have an account MyFFonseca, please register and get access to exclusive content to registered users!
Create registry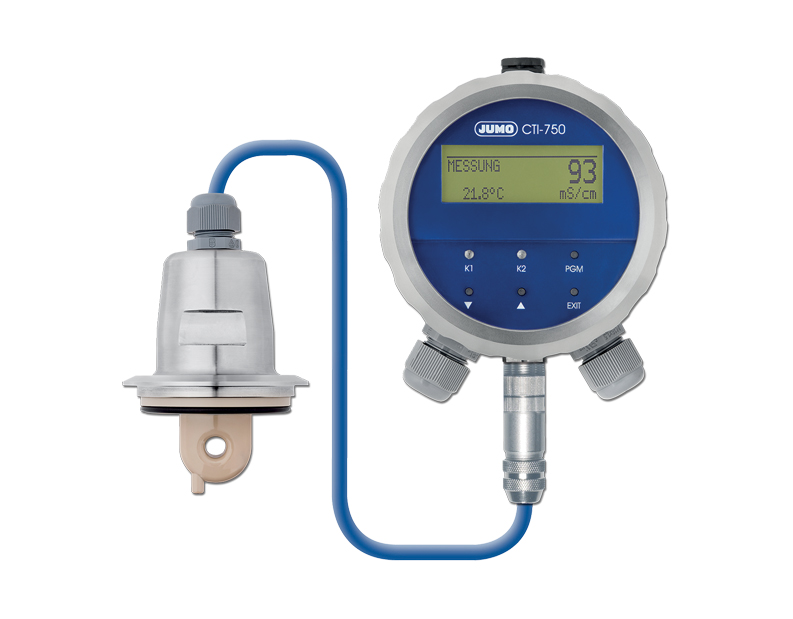 Process, Instrumentation & Environment
Measuring sensor - CTI-750 - Jumo
Inductive conductivity/concentration and temperature transmitter with switching contacts.

The device is used for measurement/control of the conductivity/concentration of fluid medium. The application is particularly recommended in media in which severe deposits through contamination, oil, grease, or plaster/calcium precipitations are to be expected. The integrated temperature measurement allows a precise and quick temperature compensation that is particularly important when measuring the conductivity. Additional functions, such as the combined toggling of measuring range and temperature coefficient, allow the optimum use in CIP processes.

Two integrated switching outputs can be freely programmed for limit value monitoring of conductivity/concentration and/or temperature. Alarm and control tasks (desalination) can also be assigned.

Operation is carried out either via membrane keypad and plain text graphical display (operating language can be toggled) or via an easy-to-use PC setup program. The display screen can be read when installed in either vertically or horizontally routed pipelines simply by rotating the case cover. The setup program can also be used to store and print out the device configuration data for system documentation. To exclude tampering the device can also be supplied without keypad/display. In this case the setup program is required for programming.
Depending on the requirements one can choose between a plastic and a stainless steel case. The
Jumo CTI-750
can be supplied as a combination device (transmitter and measuring cell in one device) or as a detached version (transmitter and measuring cell with cable). The separated version is especially suited for systems subject to strong vibration and/or strong temperature radiation at the measuring location or for installation at locations that are difficult to access.
Features
Activation of up to four measuring ranges;
Activation of up to four temperature coefficients;
Concentration measurement;
Fast-response temperature sensor;
Operation via keypad/LCD display or setup program;
Operating language: English, German, French, Dutch, Polish, Russian, Spanish, Swedish;
Setup program for programming/plant documentation;
Learning function for the temperature coefficient;
Individual characteristic for concentration display;
Desalination control.
Advantages
Precise measurement in very high conductivity medium or, medium highly contaminated or tends to form deposits;
Practically maintenance-free;
Exact measurement of media with a non-linear characteristic.
Industries
Product separation in the food/beverage industry;
Bottle cleaning plants;
Concentration measurement;
CIP plants;
Water and wastewater technology;
Chemical dispensing.
Ref. A03039054
F.Fonseca is the representative of Jumo in Portugal.