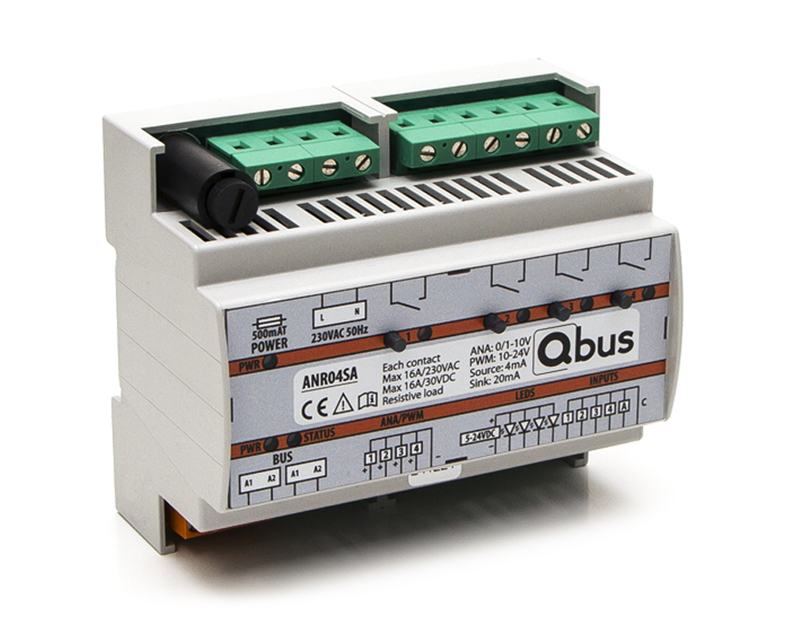 This module with 4 analog dimmers with relays and 5 inputs is the most multifunctional module of the Qbus Stand Alone range. This module can both switch and dim (even with constant light control) and can function both autonomously – so WITHOUT Controller, WITHOUT external power supply and WITHOUT any configuration – but can also be connected to a Controller to become part of a full-fledged Qbus installation.

The ANR04SA is suitable for controlling four analog dimmers (0/1-10V or PWM) or relays (16A each) or a combination of both. Each analog dimmer controls a relay contact which switches off when the analog dimmer is at 0%. These dimmers can be used the control LEDs, Fluorescent Tubular lamps, ventilators,… It is also possible to use the relay output as an ON/OFF switching contact to control lights, sockets,… And all of this without controller and configuration.


The ANR04SA module also has 5 potential-free inputs to connect standard push buttons. Input 1 to 4 control respectively output 1 to 4, input A is a scene-input which executes an ALL OFF-scene when pushing for 0,7 seconds (and then releasing the button), or a PANIC-scene (All Outputs on) when pushing the button for 2 seconds. By default, the inputs are in push button mode.
Features
Power supply: 230Vac +-10%, 50 Hz - maximum protection 16A/2P;
Insulation voltage : 3 kVac tested;
Characteristic consumption: 9VA maximum – all relays on;
Ambient temperature: Working temp. range: 10°C to 50°C;
Storage temp. range: -10°C to 60°C;
Maximum humidity : 93%, no moisture condensation;
Bus load : 10mA at nominal 13,8V;
Internal fuse : 500mA single-phase;
Max installation altitude : 2.000 meters.
Advantages
Modules equipped with internal power suply;
Pushbuttons on the module for manual operation;
It allows to have on the same module adjustable outputs and ON / OFF outputs;
Inputs for connection os standard pushbuttons without need external power supply;
No programming or configuration required;
Connectors for connection of the Qbus home Automation system (complete system).
Industries
Electrical installers;
Construction companies;
Electrical design offices.
Ref. A11760269
F.Fonseca is the representative of Qbus in Portugal.