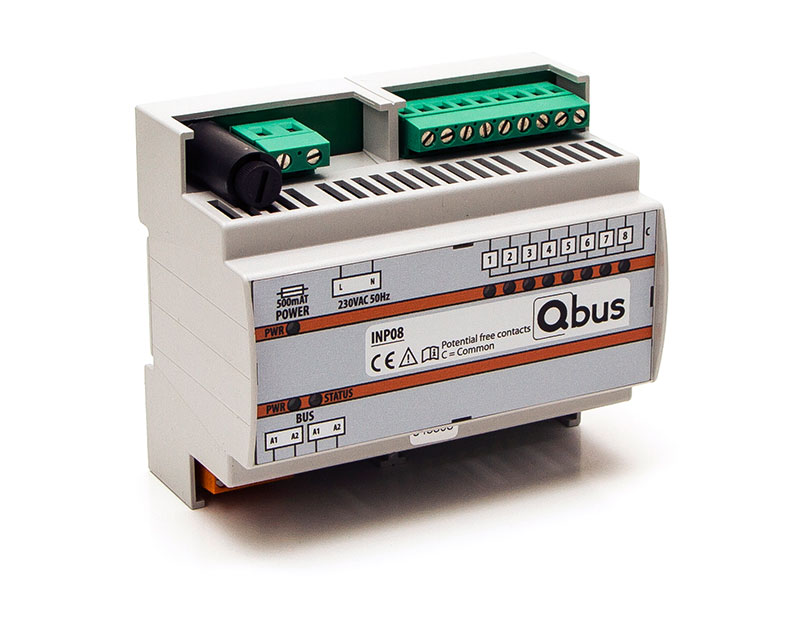 Module for DIN-rail, for connecting external contacts such as regular switches and push buttons, solar/wind detector, motion detector, smoke detectors.
Eight optical isolated inputs are provided, which must be potencial-free.

The INP08 can have 8 optically disconnected potencial-free inputs. The maximum length of each inputs is 200 meters. The cable type or it's section is irrelevante.

The input contacts can be selected and set using the Qbus configuration software:
Push button = button that is open when inactive – only active when pushed shortly (e.g. doorbell);
Normal open = contact that is open when inactive;
Normal closed = contact that is closed when inactive;
Switch = when a single-pole conventional switch is connected to the input.
An INP08 can control 8 outputs, 8 scenes or 8 x 16 scenes (via the sequence function).
For each input a LED shows whether the connected contact is open (LED is OFF) or closed (LED is illuminated).
The INP08 has na 230Vac 50Hz power supply to supply the internal electronics. A bipolar automatic fuse of a maximum of 6A must be placed on the mains power.
Features
Power supply : bus;
Characteristic consumption : 2.3VA;
Working temp. range : 10°C to 50°C;
Storage temp. range : -10°C to 60°C;
Maximum humidity : 93%, no moisture condensation;
Bus load: 10mA;
Max installation altitude : 2.000m.
Advantages
Configurable inputs;
LED feedback for output status;
Power supply: low voltage.
Industries
Electrical installers;
Construction companies;
Electrical design offices.
F.Fonseca is the representative of Qbus in Portugal.